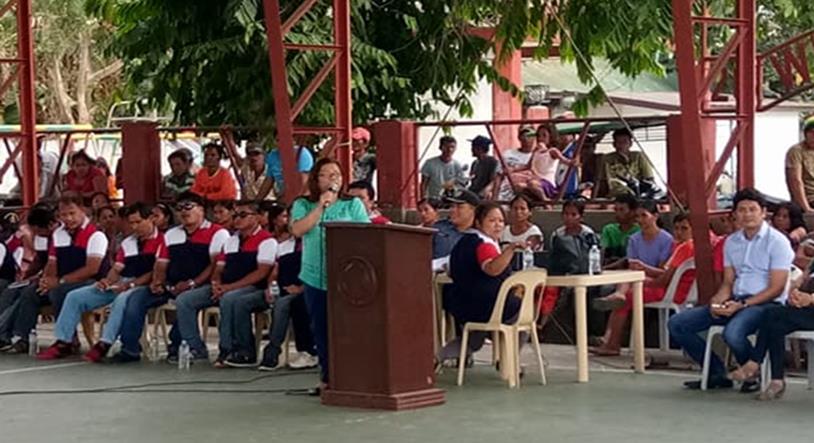 SAN JOSE, TARLAC – with a crowd of 485 from different walks of life, Barangay Iba's showcase assembly in San Jose, Tarlac on March 24 was a success.
DILG Tarlac Provincial Director Belina Herman, with the rest of the provincial office personnel who took part in the gathering, lauded Punong Barangay Joselito Capitolo and the members of the Sangguniang Barangay for braving the challenge to be this semester's showcase.
Iba was also chosen among the thirteen (13) barangays of San Jose during the assessment of the search for Outstanding Lupong Tagapamayapa.
Cluster Leader Jeffrey Manalastas read the message of OIC Secretary Eduardo M. Año, which underscored the importance of conducting barangay assemblies and gave premium to the government's efforts in combating the crisis on illegal drugs.
The culminating activity was PB Capitolo's State of the Barangay Address (SOBA) whereby he gave an overview of the barangay's accomplishments. The detailed explanation of the barangay's spending of the 20% Development Fund, 10% Sangguniang Kabataan (SK) Fund, 5% Disaster Risk Reduction and Management (DRRM) Fund, other disbursements and other matters were discussed by the respective chairperson of concerned committees.
Shortly after the SOBA, the floor was opened for questions, issues, and concerns which were answered and addressed by the barangay officials concerned.
The Local Government Code requires all barangays to conduct their assemblies at least twice a year or once every semester. Under Proclamation 260 dated September 30, 2011 the last Saturday of March and the second Sunday of October are declared as Barangay Assembly Days. This is a platform which serves as a venue for the governed sovereign Filipino masses and the barangay government to hear and discuss the report of the barangay concerning its activities, finances and as well as the problems and issues affecting its people.