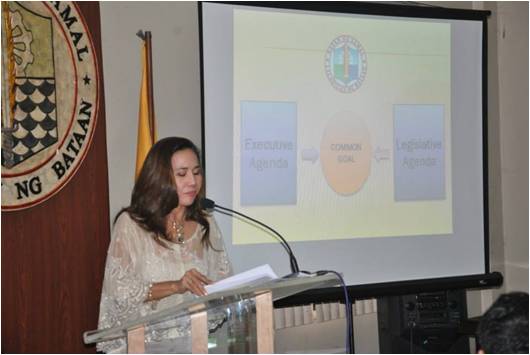 The Local Government Unit of Samal, Bataan, in collaboration with the Department of the Interior and Local Government (DILG), Samal has organized various activities in line with the celebration of the 22nd Anniversary of the Local Government Code of 1991 last October 14, 2013.
Knowing that the celebration is a gift and should be made for the glory of God, a thanksgiving mass was held, led by Archbishop Ruperto Santos. The mass was attended by the key officials, department heads and employees of the municipality.
One of the remarkable parts of the activity is the recognition on the vital contributions of the past administrations particularly in the areas of good governance and social development. The LGU of Samal, Bataan gave tribute to all former municipal mayors since 1991 wherein RA 7160 or the Local Government of 1991 was enacted.
The Municipality of Samal has really more reasons to celebrate and one of which is the Award of Excellence received by Barangay Gugo for being the Regional Winner of the 2012 LupongTagapayampa Incentive Awards (LTIA).
Other activities which serve as another milestone in the development of the municipality are MOA Signing with Orani Water District, Ground Breaking Ceremony of Sta. Catalina Homes (an income generating housing project), Samal Convention Center and Samal Livelihood Center. The aforementioned projects are located near Samal Public Market.
On the legislative governance advancement, an Executive and Legislative Agenda (ELA) has been presented and adopted by the Sangguniang Bayan of Samal during the above-mentioned activity. Honorable Governor Albert S. Garcia as guest of honor has witnessed and inspired the pledging of commitment of the LCE, VM, SB Members and Department Heads towards the successful implementation of their ELA. The honorable governor also led the Gawad Pagkilala to all former Municipal Vice Mayors and Sanggunian Bayan Members of the municipality since 1991.
Another significant and culminating event during the activity is the pronouncement of the State of the Municipality Address (SOMA) by Samal Mayor Hon. Generosa M. DelaFuente. The SOMA focused on LGU accomplishments on her First 100 days as 2nd Termer Municipal Mayor of the municipality. Included in the highlights of her presentation is the accomplishments of the LGU from CY 2010 up to 2012 based on the result of LGPMS.