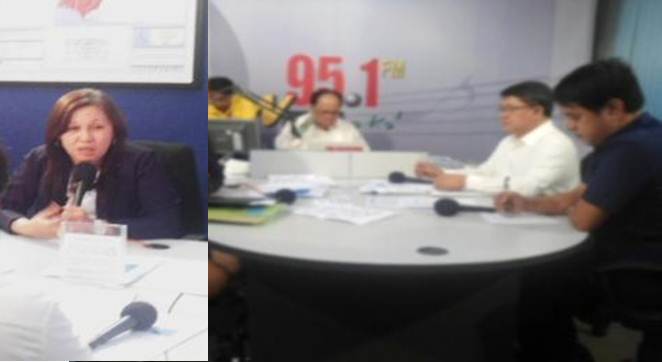 DILG Region III, represented by MED Chief Lerrie S. Hernandez, guested in a radio program aired daily from 9:00 A.M. – 10:00 A.M., entitled, "Talakayan" at DWRW 95.5FM Radio Station anchored by Mr. Perry Pangan. Other guests were DPWH Regional Director Antonio Molano and PIA Regional Director William Beltran.

The interview focused on the discussion of role of each agency on disaster preparedness.
Ms. Hernandez explained that the DILG, being the Regional Disaster Risk Reduction and Management Council (RMCC) Vice-Chairman for Preparedness, is observing a calamity response protocol everytime a disaster occurs. This process is a communication system where DILG Regional Office sends regular weather advisories to concerned Provincial/City Directors and field officers thru email, fax or text messages. Field Officers, in turn, forward the information to the Local Chief Executives within their area of jurisdiction for their guidance and immediate action. Likewise, she stated that the Regional and Provincial Offices of DILG are regularly reactivating respective Operations Center when needs arise in order to monitor actions taken by the LGUs on disaster preparedness.

On the part of the DPWH Region III, Dir. Molano informed that the breaching of dike in the Municipalities of Sto. Tomas and Minalin had been completed. The breaching was undertaken because of the chest-level flooding experienced in these municipalities last year. He also assured the safety of the dike.

Dir. Beltran of PIA talked about their weekly activity known as Kapihan ng Mamamayan which is aimed to inform the public the roles and programs of the different National Government Agencies on Disaster Risk Reduction Management (DRRM) projects and activities. He further mentioned that regular weather advisories are being sent to barangay officials thru text.