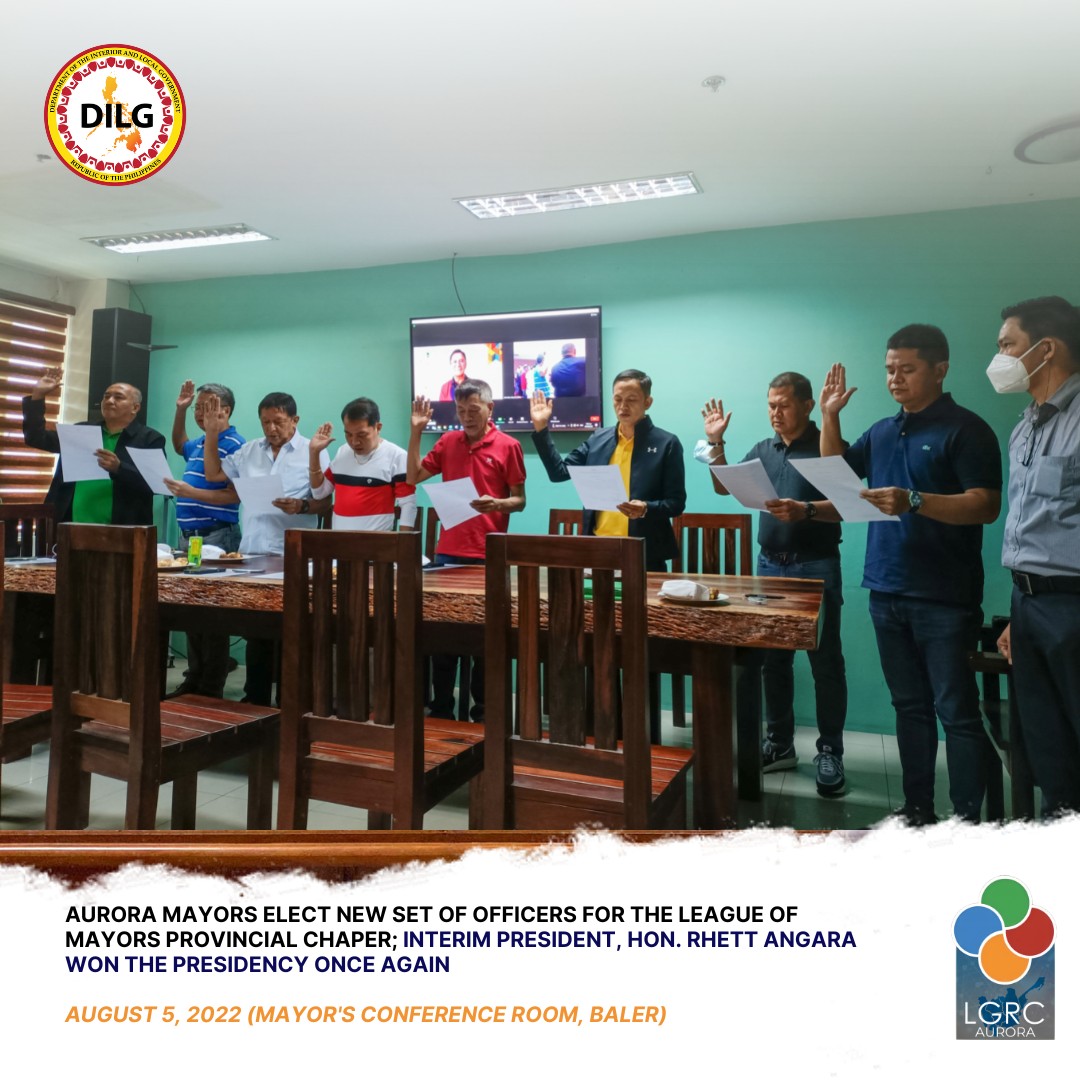 BALER, Aurora - The Mayors' League of the Philippines (MLP) – Aurora Provincial Chapter, in coordination with the Department of the Interior and Local Government (DILG)-Aurora, held the election for its new set of officers for the term 2022-2025, on August 5, 2022 at the Mayor's Conference Room, Municipal Government of Baler.
After unanimous votes, Hon. Rhett Ronan T. Angara, Mayor of Baler, and the interim President for the previous term, won the presidency again.
Other officers elected were the following:
Secretary: Hon. Shierwin H. Taay (Dingalan)
Treasurer: Hon. Joe P. Gorospe (Dilasag)
Auditor: Hon. Danilo A. Tolentino (Dipaculao)
P.R.O: Hon. Manuel A. Torres (Dinalungan)
B.O.D. 1: Hon. Ariel S. Bitong (Maria Aurora)
B.O.D. 2: Hon. Roynald S. Soriano (Casiguran)
B.O.D. 3: Hon. Ariel A. de Jesus (San Luis)
Additionally, none of the mayors faced opposition when running for office, a sign of trust and confidence in one another's abilities to carry out the responsibilities of the roles.
Present to witness the said election were LMP National Representative Ms. Cherry Joyce F. Del Rosario, DILG Provincial Director Ener P. Cambronero, CTL Dennis A. Daquiz, MLGOO Cecilia G. Rubio, ADA VI Bon Paby P. Mingua and PEO I Sheen Myriane S. Caruluan.
In his acceptance speech, Mayor Angara urged his fellow officials to carry out their roles as public servants effectively and to maintain their working relationships in order to effectively promote and deliver strong local governance in the province. In order to benefit the entire constituency, he also pledged support for the department's projects, programs, and activities.
After the proclamation of winners, Congressman Rommel Rico T. Angara administered the oath taking of the newly-elected LMP officers for the term 2022-2025. The mayors in attendance received assurances from Congressman Angara that he would continue to support the league's initiative and unified call to serve the people.