Usapang NDRMC for the 13th episode of Usapang DILG
The DILG Aurora and its Local Governance Resource Center "TAMBULI", in collaboration with DWBW 92.1 RTV Baler, Radyo Kawadi and Radyo Kaedup, aired the 13th episode of Usapang DILG: Gabay sa Pamamahalang Lokal, today, July 21, 2023.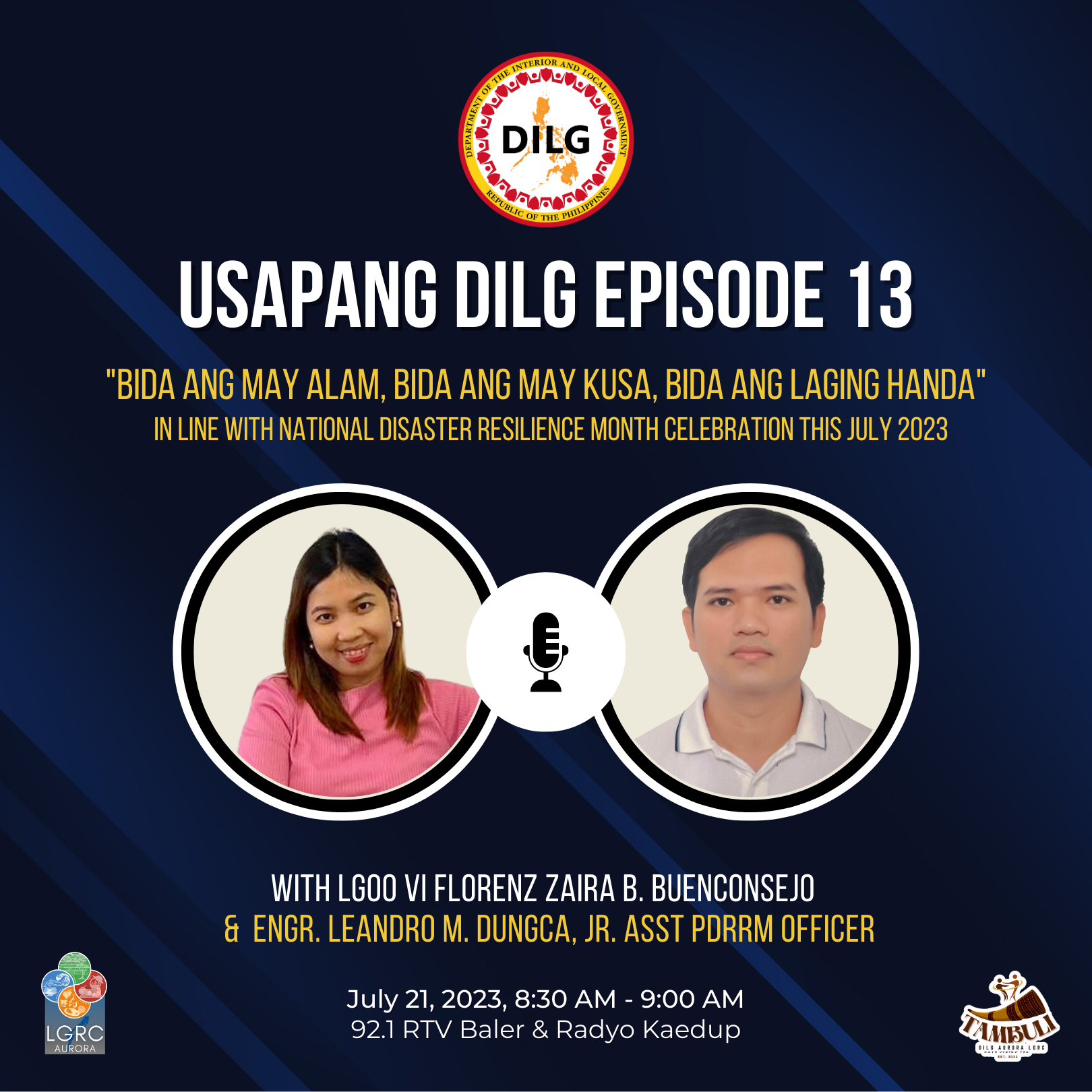 For the 13th episode entitled, "BIDA ANG MAY ALAM, BIDA ANG MAY KUSA, BIDA ANG LAGING HANDA", the 2023 National Disaster Resilience Month Celebration which is a month-long venture that aims to capacitate the community in enhancing preparedness for effective response and to increase awareness of the general public on the importance of understanding disaster risks was featured.
The 30-minute episode was graced by Engr. Leandro M. Dungca, Jr. - Assistant Provincial Disaster Risk Reduction Management Officer of the Provincial Government of Aurora.
On his discussion, Engr. Dungca highlighted the RA 10121 or the Philippine Disaster Risk Reduction and Management Act of 2010 and the NDRRM Framework, which envisions a safer, adaptive and disaster resilient Filipino Communities and conveys a paradigm shift from a reactive to a proactive approach to increase people's resilience and decrease their vulnerabilities.
The 4 thematic areas of the NDRRM Plan which include: (1) prevention and mitigation, (2) disaster preparedness, (3) disaster response & (4) early recovery, and disaster rehabilitation and recovery, were also discussed in the program.
This segment was hosted by DILG Aurora DRR CCA Focal Person and Casiguran MLGOO, LGOO VI Florenz Zaira B. Buenconsejo.
Usapang DILG is an advocacy program that aims to create awareness, foster transparency and accountability by providing citizens with relevant information and knowledge on national and local government initiatives and programs which is anchored in good local governance.
You may rewatch the livestream via: