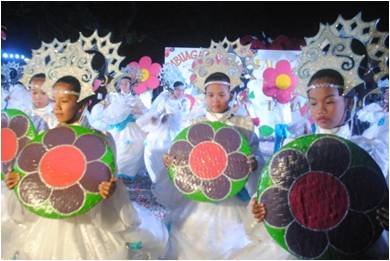 With the joint venture of the LGU under the stewardship of Hon. Mayor Joselito F. Naguit and Maleldo 2013 Execom of St. Thomas, the Apostle Parish, the "Sabuaga Festival" was held last March 31, 2013. The activity can be compared with the festival of other towns like the "Panagbenga" of Baguio City and "Sinulog Festival" of Cebu because of its colorful street performances particularly the unique costumes and choreography of participating dancers. It is a yearly activity conducted during Easter Sunday in the observance of the Holy Week. Sabuaga came from the combined Kapampangan words "Sabuag" and "Sampaga" meaning to shower flower.
All seven (7) barangays of the town participated in the festivity showcasing their well-known products like artistic pots and caskets as well as produce in agriculture, fishery, poultry, garments and automotive body building.
Acting Tourism Officer Cristina Yap-Torres noted that despite being the smallest and youngest town in Pampanga, Sto. Tomas was able to produce its own festival acknowledged by the Department of Tourism.
Hon. Mayor Joselito Naguit shared how the town survived and bounced back despite the recent distressed condition brought about by the onslaught of recent calamity. Hence they came up with the theme "Talakad! Talanga! Tamasa!"
Truly, the success of the 4th Sabuaga Festival demonstrated unity and concerted efforts of the thomanians.