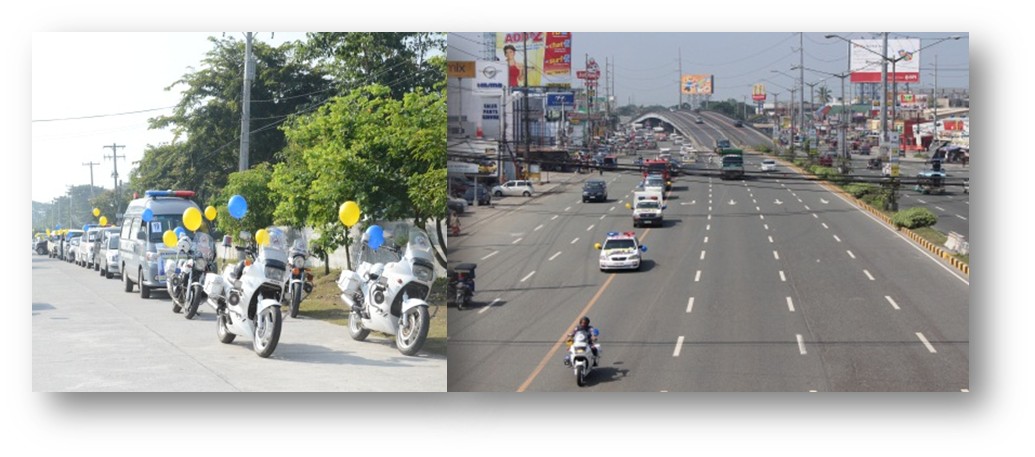 DILG Region 3 in celebration of the 23rd Anniversary of the Local Government Code with the theme "Ang LGUng Magaling, May Nararating", started the month of October with a blast! The Department conducted a Motorcade for Good Governance on October 1, 2014 which ran across the national and city roads of the City of San Fernando, Pampanga.
   The motorcade with 62 registered vehicles was participated in by representatives from the different National Government Agencies, local media and Local Government Units in Pampanga, Zambales and Cities of Angeles and Olongapo. A similar activity will be conducted by all provinces in Central Luzon.
   After the motorcade, a Thanksgiving Mass and a brief program were held at Walter Mart Event Center attended by

more than 200 participants. DILG-3 Regional Director Florida M. Dijan reiterated the homily of Father Ramon Torres during the mass which pertains to the mission of DILG personnel as a public servants. They both believe that "Walang LGUng magaling kung walang DILGng higit na magaling." She defined LGUng magaling as the one which has the "karunungan, kakayahan, abilidad, diskarte, istratehiya sa pamamahala at pamamalakad, tibay ng loob at may hawak sa Diyos" in pursuing good governance. In line with this, RD Dijan mentioned the Ugnayan ng Barangay at Simbahan (UBAS) that will be launched this coming month of November 2014.  
   She cited the upcoming activities of the DILG for the month-long celebration such as Local Government Forum, Fun Run, LG Congress, and the Photo Contest with the theme "Capturing Good Governance through the Lens". She ended her message by thanking the NGAs, LGUs, media, and partners for their support to the Department.