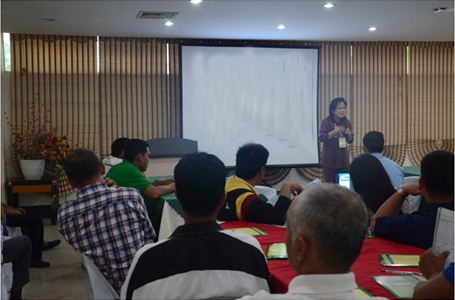 DILG R3, under the stewardship of RD Florida M. Dijan, in partnership with DOST-PAGASA, HLURB3, DENR-MGB3 and OCD3, conducted a Seminar-Workshop on the Formulation Local Climate Change Action Plan (LCCAP) for Olongapo City and the Twelve (12) Component Cities of the region onDecember 10-12, 2013 at the Oxford Hotel, Clark Freeport Zone, Pampanga. The activity was participated in by City Planning and Development Officers; City Disaster Risk Reduction Management Officers; City Zoning/Building Officer; City Local Government Operations Officer and the Provincial Health Office and Provincial Agricultural Office of the provinces of Bataan; Bulacan; Nueva Ecija; Pampanga; and Tarlac.
The Seminar-Workshopwas aimed to capacitate target LGUs in integrating governance and bureaucracy perspectives in the formulation of the LCCAP which is a proactive step to prepare LGUs to the impacts of projected climate-induced disasters.
Modules of the training include: Review of RA 10121 or the DRRM Act of 2010 and RA 9279 or the Climate Change Act; Climate Change Adaptation. Trends, Issues and Challenges; Mainstreaming of DRR & CCA into Local Development Plans; Mainstreaming of Climate Change in Comprehensive Development Plan.
RD Dijan, in her message, welcomed the participants and asked them to extend her gratitude to their respective LCEs for allowing them to attend the said training. She said that the activity is very timely following the recent onslaught of Super Typhoon "Yolanda" in Central Visayas.
The Resource Persons were Mr. Hilton T. Hernando, Senior Weather Specialist of DOST-PAGASA; Mr. Noel B. Lacadin, Chief Geologist of DENR-MGB3; Mr. Michael A. Dumlao, OIC-Chief, Operations Center, OCD3; and Ms. Corazon O. Labay, Housing and Homesite Relations Officer, HLURB 3.