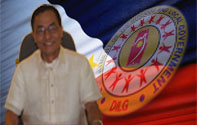 We thank you for visiting the DILG Region 3 official website.
This website serves as an extension of our services to our clients and partners in local governance by way of providing on-line information of the Department's programs, projects and activities that are carried out in all LGUs of the entire region. May you find every data contained in this site relevant, useful, and helpful to an effective and efficient decision-making.
We welcome your suggestions and feedback as we aim to better cater to the information needs of the users of this website. Let us be in unison in building the information blocks towards achieving excellence in local governance in Central Luzon.