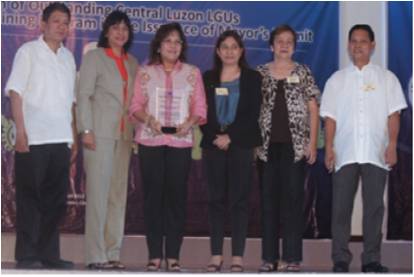 The Department of the Interior and Local Government Region 3, under the stewardship of     RD Florida M. Dijan, was awarded with a Special Recognition plaque by the Philippine Chamber of Commerce and Industry (PCCI).  Signed by the President of the PCCI, Atty. Miguel B. Varela, the award was in recognition of DILG R3's significant support to the Central Luzon's Business Permit and Licensing System (BPLS) program. 

  
DILG R3, together with the Department of Trade and Industry, helped in achieving the 100% compliance of all Local Government Units in Region 3 to the Component 1 of the Nationwide BPLS Streamlining which is the adoption of the unified form in the application for business permits.

    Component 1 sets up the streamlined BPLS process which aims at simplification and standardization. The reforms focused on three standards, i.e. maximum no. of steps, maximum no. of processing days following the anti red tape law and one standard application form. Complementing these standards are other reforms like reducing the number of signatories, one-time assessment and payment, joint inspectorate teams and reducing the face to face contact with applicants.

    The award was given on April 25, 2012 at the Fontana Convention Center during the                   Central Luzon Growth Corridor Foundation, Incorporation's (CLGCFI) "6th Recognition of Outstanding LGUs in Central Luzon Implementing the Streamlining Program in the Issuance of Mayor's Permit."  The CLGFI is chaired by Gov. Bellaflor A. Castillo of the Province of Aurora.