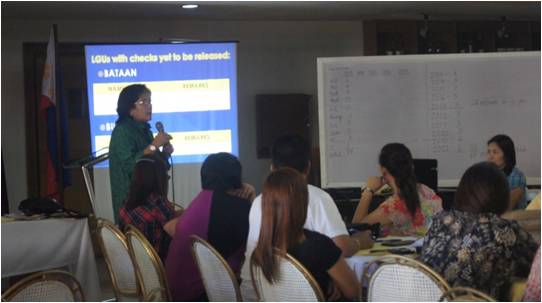 The Department of the Interior and Local Government Region 3 held a Roadmap Setting activity cum Continuing Legal Education (CLE) on April 1-2, 2013 at Maharajah Hotel, Angeles City. The activity, participated in by Provincial and City Directors, Cluster Heads and Team Leaders, Division Chiefs, Planning Officers, Program Focal Persons and others concerned was aimed to enable the participants to have basic knowledge on the initial roadmap on DILG programs, projects and activities for CY 2014-2016. Likewise, through the CLE, participants' knowledge on legal education are updated to enable them to be more efficient in addressing legal matters in their respective AORs.
RD Florida Dijan, in her opening message highlighted the importance of the activity and encouraged them to renew their faith and commitment in the DILG. "As men and women of DILG, our mandate is to serve and protect", she further said. This is because of the Department's responsibility in general supervision over LGUs which will certainly lead in upholding citizens' welfare.
Designated Assistant Planning Officer Miriam Gaviola presented the final Operations, Plans and Budget for 2013 and discussed the Framework of the DILG, followed by the presentation of Pampanga Provincial Director Myrvi Fabia's draft programs and projects for FY 2014-2016 crafted during the National Roadmap Setting. Participants engaged in a workshop particularly their recommendations on the programs for the next three years.
Updates on different programs and activities attended were also presented by OIC Assistant Regional Director and Nueva Ecija Provincial Director Abraham Pascua, Division Chiefs and focal persons.
On the second day, Regional Legal Officer Atty. Myron Cunanan led the discussion of Election Law Cases, Legal Opinions and other Department Issuances and clarified some issues and concerns of participants.