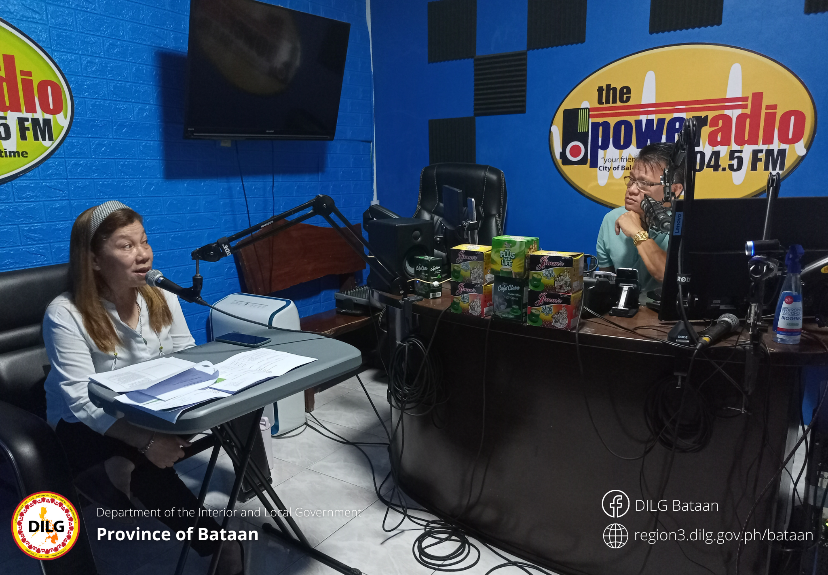 City of Balanga - DILG Bataan PD Belina Herman made a live radio appearance on July 27, 2022 and talked about the various programs of the Department in a one-hour segment called "Morning Date with Jimmy Z" on Poweradio Bataan 104.5 FM.
 Parallel to the provincial office's aim of reaching a wider audience, the said on-air guesting is an effective platform for PD Herman and the team to create public awareness on DILG mandates and other matters related to local governance.
Asked about her impression of the province, PD Herman said that she is particularly excited to work with the local government units here, knowing that most Bataan LGUs are consistent passers of SGLG.
Moreover, one of the questions discussed during the interview is the national subsidy given to the LGUs to fund their local projects. It was said that 18 out of 26 projects under LGSF-FALGU (Financial Assistance to Local Government Units) across the province have been completed; while 15 out of 17 projects under LGSF-DRRAP have been marked as fully implemented as well.
Another highlight of the radio interview is the call for a more inclusive and participative local governance. PD Herman encouraged Civil Society Organizations (CSO) to be accredited in their respective LGUs, and shared the timeline of the CSO accreditation process which began in July. Accredited CSOs will have the opportunity to participate in local planning, program monitoring and propose appropriate legislative measures.
Before the end of the program, radio host Jimmy Z asked for an update on the possibility of the Barangay Elections. In her response, PD Herman said that while there are proposals for the postponement of the Barangay Elections, RA 114652 states that the Barangay and SK Elections will be held on December 5, 2022. "We need to wait and see if the proposals for the postponement of Barangay and SK Elections will prosper", she added
At the end of the program, PD Herman expressed her gratitude to the LGUs of Bataan and DILG personnel for their continued support to the Department. She also thanked Poweradio 104.5 for being a vital medium for disseminating timely and relevant informations.