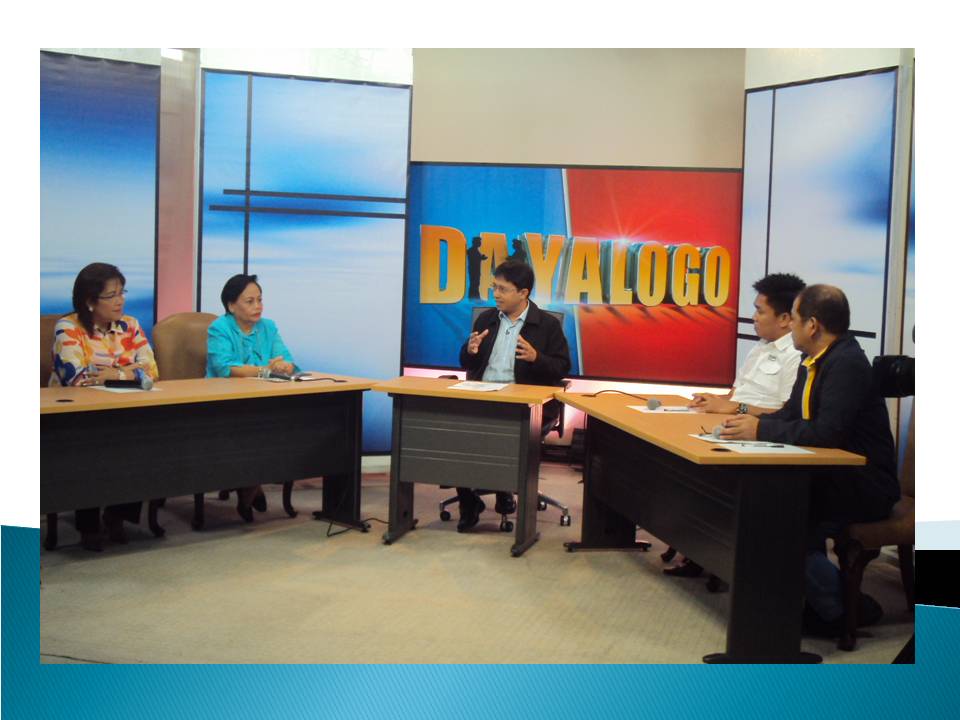 DILG-3 Regional Director Florida M. Dijan shared the Department's promotion and advocacy of transparency and accountability in local governance during a live interview at CLTV 36's "Dayalogo" on February 7, 2012, 7:30 pm.
"Dayalogo" is a new program of CLTV 36 which serves as a venue to air affected sectors' issues, concerns and suggestions to Local Government Units, National Government Agencies and other groups. It also aims to strengthen the partnership and unity between the governing and the governed.
When asked by host Jun Lutero on the relevance of people's participation in governance, RD Dijan said that NGOs' and CSOs' participation, with certain boundaries and limitations, gives citizens the opportunity to help the government lead effectively. "In fact, one of the DILG's Program Outcomes is Empowered and Accountable LGUs, wherein programs and projects focusing on transparency and accountability are implemented such as the Full Disclosure Policy", the RD said.
Speaking in Filipino, RD Dijan said that the Full Disclosure Policy aims to inform the people how a Local Government Unit spends its money, that is why LGUs are required to post their financial transactions in their respective websites. She also said that even the DILG posts its financial transactions in its official website. Likewise, she proudly mentioned that all LGUs in Central Luzon are complying with the FDP.
The Director also gave emphasis on her "open door policy" wherein everybody including clients and personnel are free to approach her of any official concerns. "Gusto namin na ang aming mga kliyente ay lumabas sa aming ahensya nang nakangiti", she said.
Other guests during the program are Punong Barangay Hon. Genius Prieto of Magliman, City of San Fernando, Municipal Administrator of Guagua, Pampanga Mr. Jun Panganiban and representative of the Department of Education R-3 Dr. Amelia Julian.