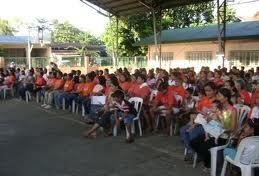 Proclamation No. 260, dated September 30, 2011, issued by President Benigno S. Aquino III, declares that the last Saturday of March and the second Sunday of October 2011, and every year thereafter as Barangay Assembly Days.
This year, the Barangay Assembly Day for the first semester of CY 2012 is set on March 31, 2012 as stated in Memorandum Circular No. 2012-29, dated February 10, 2012, issued by DILG Secretary Jesse M. Robredo.

In order to ensure compliance of barangay officials, DILG-3 Regional Director Florida M. Dijan had advised the Provincial/City Directors and Cluster Team Leaders thru a Memorandum dated February 23, 2012 to circularize said MC to all Local Chief Executives and others concerned. All City and Municipal Mayors are enjoined to ensure compliance and maximum participation of all barangays in the said activity in their respective jurisdictions.
Relative to this assembly, all barangays are enjoined to present the State of Barangay Address (SOBA) with emphasis on CY 2011 Second Semester Accomplishments, Financial Reports and Updates on CY 2012 First Semester on-going programs. Issues or concerns affecting the barangay such as Peace and Order situation, Disaster Preparedness, Solid Waste Management and the implementation of the Aksyon Barangay Kontra Dengue (ABKD) particularly on regular clean up activities shall also be discussed.
Furthermore, barangay officials shall confer with the barangay folks the National Greening Program particularly the responsibilities of the barangay in the production of seedlings for the nationwide synchronized planting on June 25, 2012 in celebration of the Philippines Arbor Day. Also, barangay officials are enjoined to prepare barangay assembly posters or banners to be posted or hanged in conspicuous places.
As stated in MC 2012-29, corresponding administrative complaint against barangay officials who fail to conduct a barangay assembly may be filed by any resident of the barangay, concerned citizen, governmental or non-governmental entity before the Sangguniang Panlungsod or Sangguniang Bayan concerned pursuant to Section 61 of the LG Code or to the Office of the Ombudsman pursuant to Administrative Order No. 07 or the "Rules of Procedures on the Office of the Ombudsman", dated April 10, 1990.