Details

Category: DILG Angeles City Latest Events
Hits: 2933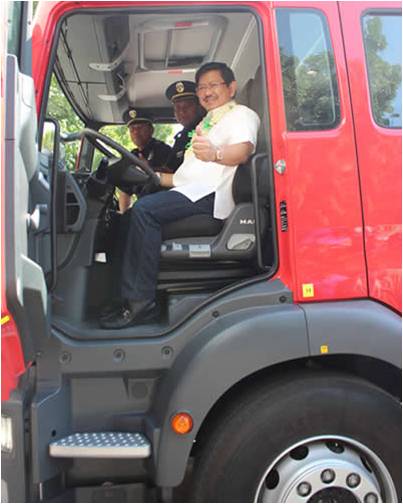 ANGELES CITY -The AngelesCity Fire Station has received a brand new Rosenbauer TLF 4000fire truck from the Department of the Interior and Local Government (DILG). This was announced by CityFire Marshall Chief Inspector Gary Alto, who said Angeles City is among the 38cities in the country that received a brand new fire truck from DILG Secretary Mar Roxas.
Mayor Edgardo Pamintuan thanked the DILG for including Angeles City in the first batch of recipients of the 38 modern fire trucks.
"We thank President Benigno 'Noynoy'Aquino and DILG Secretary Mar Roxas for providing the new Rosenbauer fire truck which will be of great help to our city," Pamintuan said. The distribution of fire trucks is part of the late Secretary Jesse Robredo's program of modernizing the Bureau of Fire Protection (BFP).
Alto said the 38 fire trucks were part of the 76 fire trucks that the BFP is acquiring this year.
Alto revealed that Angeles City has five serviceable fire trucks.
"The acquisition of this new fire truck will help boost the fire fighting capability of the (fire) department," he said.
Read more: Angeles City receives brand new fire truck from DILG