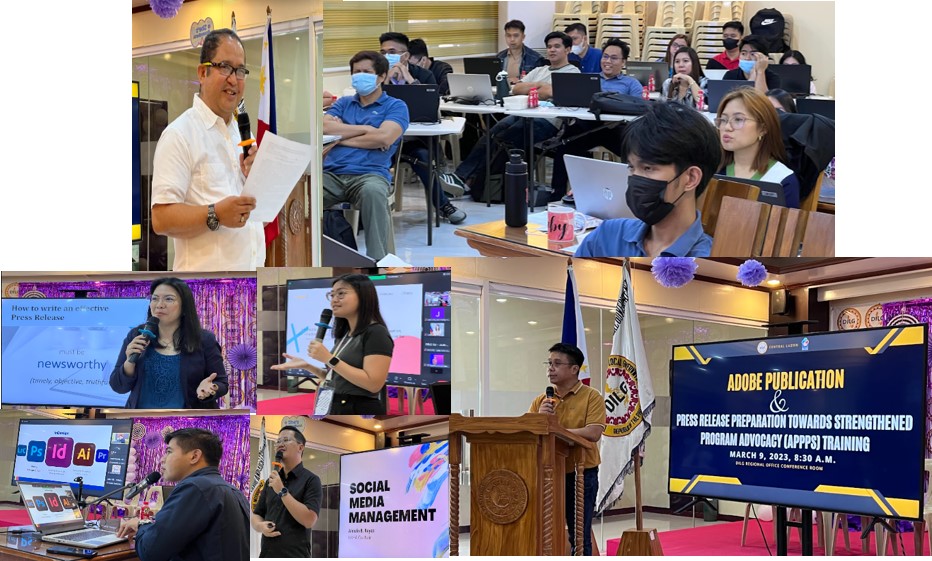 DILG Region 3 capacitated its designated regional and field offices Information Officers, IT Officers/ Graphic Artists and LIKHA members on Information Education Campaign (IEC) Materials publication including tips and techniques in press release writing through the conduct of APPPS (Adobe Publication and Press Release Preparation towards Strengthened Program Advocacy) training on March 9, 2023 at DILG-3 Regional Office.
This was aimed to enhance their competency and skills towards strengthened program advocacy of the Department in the region through its advocacy materials, both in print and digital form, being published in social media platforms and official websites.
ARD Jay E. Timbreza, in his opening message, emphasized that the activity embarks on the overarching Knowledge Management (KM) framework of the LGRRC which encompasses the whole KM process from knowledge product development, application and knowledge sharing with the different stakeholders. He added that these efforts create impact to the office target audience by constantly sharing effective Information Education Campaign (IEC) materials which cater to their information needs.
Training course content included discussion of Adobe InDesign Basic Features and Function, Basics of Canva, Press Release Writing, Basic Photography, and Social Media Management.
In his closing message, RD Anthony C. Nuyda stated the importance of IEC materials and publications in educating the public of what the government is doing for them, and what the DILG is doing in particular to assist the local government units in the performance of their functions. He further said that it is through these materials that our services and activities are made known to the public.