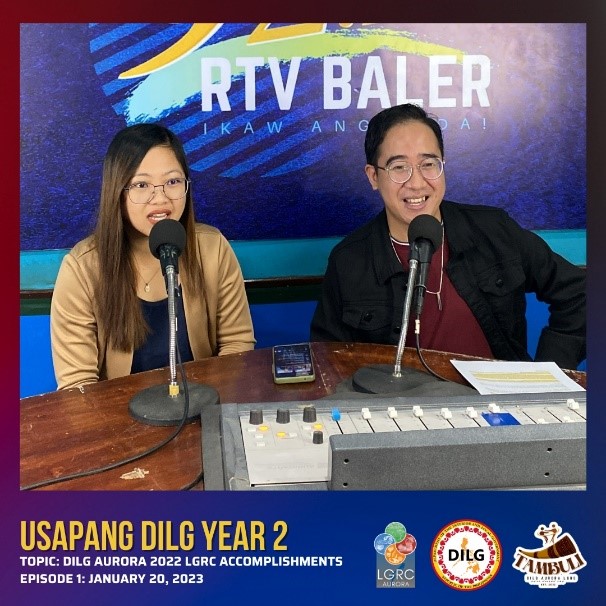 The DILG Aurora and its Local Governance Resource Center "TAMBULI", in collaboration with DWBW 92.1 RTV Baler, premiered the first episode of the second season of USAPANG DILG: GABAY SA PAMAMAHALANG LOKAL, on Friday, January 20, 2023.
 For the premiere episode, the DILG Aurora Tambuli's Accomplishments were discussed.
This is to effectively empower public servants and communicate government programs to the public for common knowledge and understanding in order to achieve excellent local governance.
With the success of the DILG Aurora's Barangayan sa Aurora from 2021 – 2022 and the successful launch of USAPANG DILG last year, the DILG Aurora Sub - LGRRC TAMBULI will continue to discover relevant and pertinent themes to address local governance's current challenges. In addition, the creation of useful and compelling material for online platforms as well as traditional media will be stepped up. Most importantly, capacity development interventions will increase the technical competency of DILG Aurora team in order to meet the Department's output and innovation needs.
For the next years, the TAMBULI, is expected to step up its efforts and improve its performance with a series of activities and projects, all of which will be anchored by a more aggressive and long-term restructured LGRRC with the help of MSAC and other potential networks, as well as stronger collaboration with private and public academic institutions.
The premiere episode was hosted by LGOO II Clarissa Hess and LGRC Aurora Focal Person LGOO II Gerald Philip DC. Esteves.