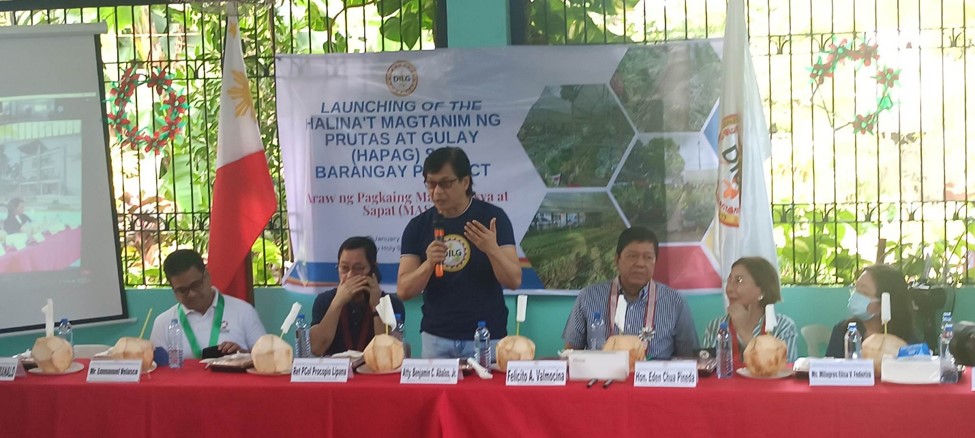 In line with the thrust of President Ferdinand E. Marcos, Jr. to address hunger and food security in the country, DILG Region 3, led by its Office Caretaker, OIC-PD Ener P. Cambronero of Aurora, participated in the National Launching of the HAPAG sa Barangay Project: Araw ng Pagkaing Masustansya at Sapat held on January 24, 2023 in Barangay Holy Spirit, Quezon City.
Mr. Emmanuel Velasco presented their GrowQC project in Quezon City which paved way to the city's pride of being a Galing Pook Awardee and one best practice that showcases urban gardening in the barangays of the city.
SILG Benjamin Abalos, Jr., in his message, encouraged everyone to go to the grounds and help in the advocacy in every barangay to engage into urban gardening as well as composting that produces fertilizer and address both food security and waste management.
The activity serves as a strategy to diversify food sources and contribute to ensuring food security in the country, through barangay community gardening, wherein households and communities will be encouraged to produce fresh and affordable fruits and vegetables from their backyards and spaces, and vacant areas of the barangays.
Likewise, barangays are requested to identify areas where their respective community gardens with at least two hundred (200) square meters of land area, will be established. Barangays that do not have vacant areas, may use containers, plots or any similar items.