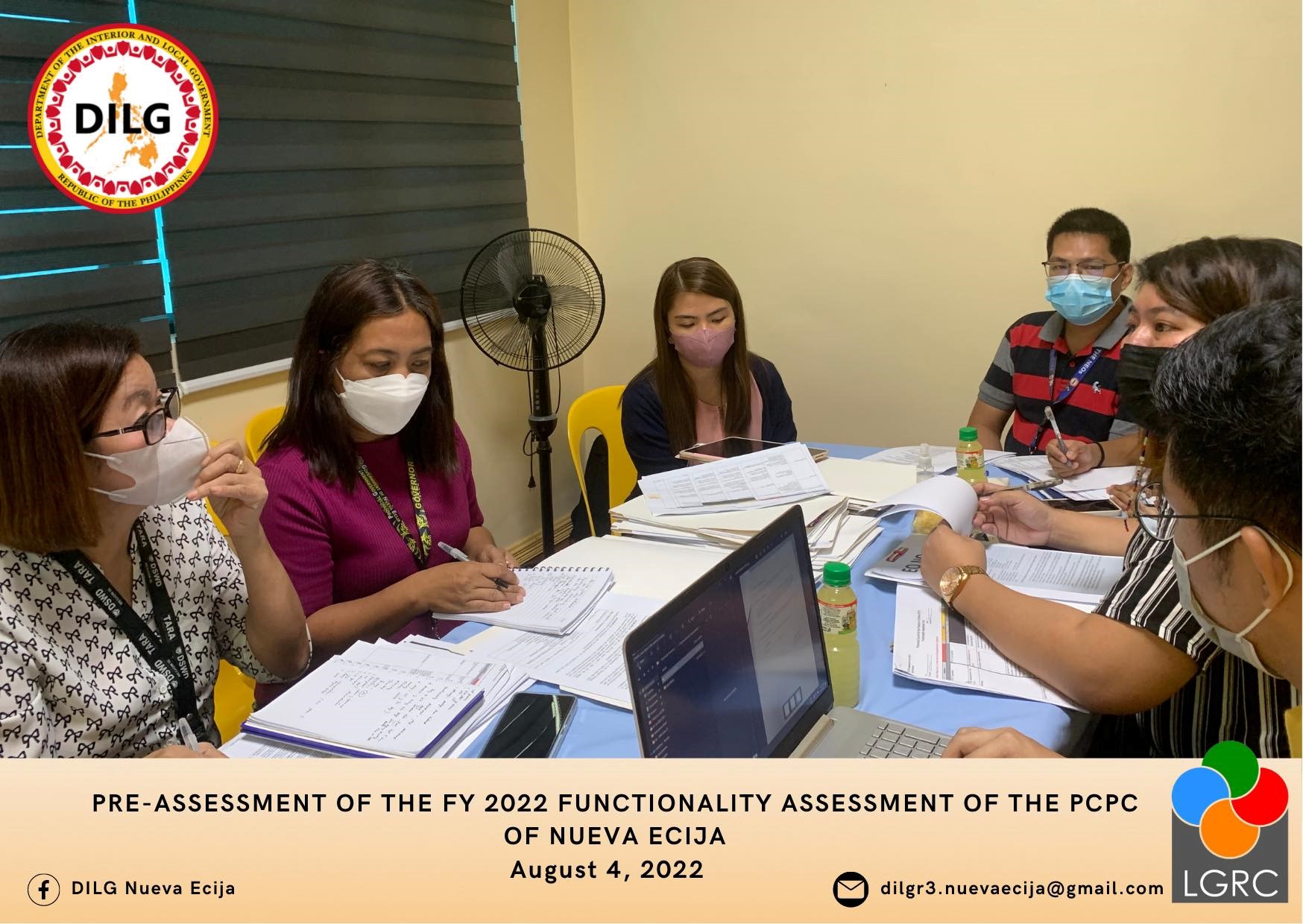 DILG R3 Validation Team conducted an on-site validation and pre-assessment for FY 2022 LCPC Functionality Assessment at the office of PSWD, Provincial Government of Nueva Ecija on August 4, 2022.
 Before the said validation, the team paid a courtesy call to Atty. Ofelio A. Tactac, Jr., DILG Nueva Ecija Provincial Director. The PG of Nueva Ecija represented by OIC PSWDO Mr. Leoncio A. Daniel, RSW, Assistant PSWDO Marijune Munsayac and other PSWD staff presented the necessary documents as means of verification during the table validation.
The LCPC assessment is based on the indicators set in the DILG MC No. 2021-039 which focuses on four (4) areas: 1. Organizational Sustainability 2. Policies and Plans for Children 3. Budget for the PCPC 4. Service Delivery and Monitoring Management for Children.
After the assessment, the on-site validation team, headed by LGOO V Cherina Quiñones, presented the unofficial score of the functionality of the PCPC of Nueva Ecija. The Team also gave an extension to provide the additional documents prior to the final functionality assessment to be conducted by the Regional Inter-Agency Monitoring Task Force (IMTF).
Present during the assessment were DILG R3 LCPC Validation Team: LGOO V Cherina Quiñones, LGOO IV Rainier Collado, IO II Emmanuel P. Apron, FA II Mhey Kristel R. Tanhueco, and the Social Protection Team of DILG Nueva Ecija: LGOO V Rossella Edillor, LGOO II Ma. Christina P. Casares, and ADA IV Millicent Kaye Velasquez.