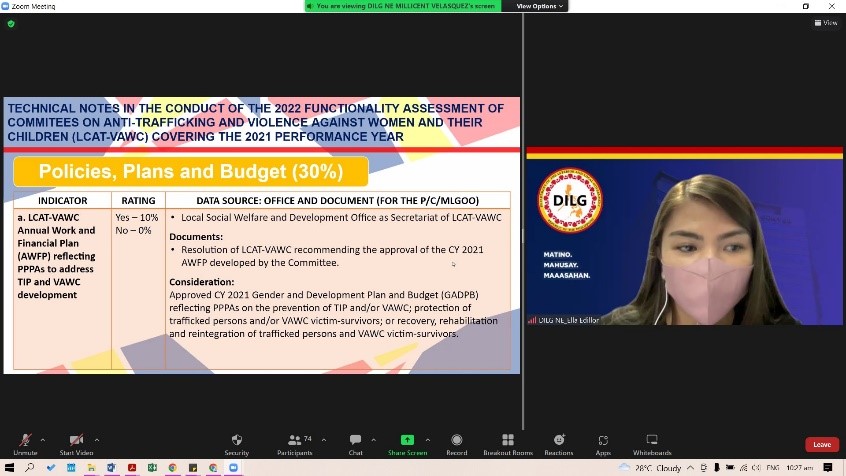 The DILG Nueva Ecija headed by Atty. Ofelio A. Tactac, Jr. spearheaded the conduct of orientation on the Functionality Assessment of FY 2022 Local Committee Against Trafficking and Violence Against Women and their Children (LCAT-VAWC) & Barangay Violence Against Women (VAW) Desk using FY 2020 and 2021 Performance Data on Juy 21, 2022.
 The activity was conducted via Zoom Meeting Application and participated by City/Municipal Local Government Operations Officer and Provincial/City/Municipal Social Welfare Development Officers.
The purpose of the activity was to prepare the C/MLGOOs and LGUs in the LCAT-VAWC assessment. Said assessment measures the functionality of the policy and strengthening the capability of LGU in addressing the trafficking in persons (TIP) and eliminating violence against women and their children.
In addition, the attendees were refreshed on the indicators of the Conduct of the 2022 Functionality Assessment of committees on LCAT-VAWC discussing three (3) major areas:
1. Organization of committees and the conduct of regular quarterly meetings.
2. Policies, plans and budget
3. Accomplishments
The activity aimed to provide awareness to LGUs on the functions of the local committees in which they will be instituting policies and programs to protect women and children who are victims of trafficking-in-persons (TIP) and violence against women and their children (VAWC). The committees shall likewise create and establish systems on investigation and rescue to ensure effective and efficient coordination; undertake information, education, and advocacy campaign against TIP and VAWC; and monitor and oversee the strict implementation of RA 9208, RA 9262, and other related laws for the protection of women and children.