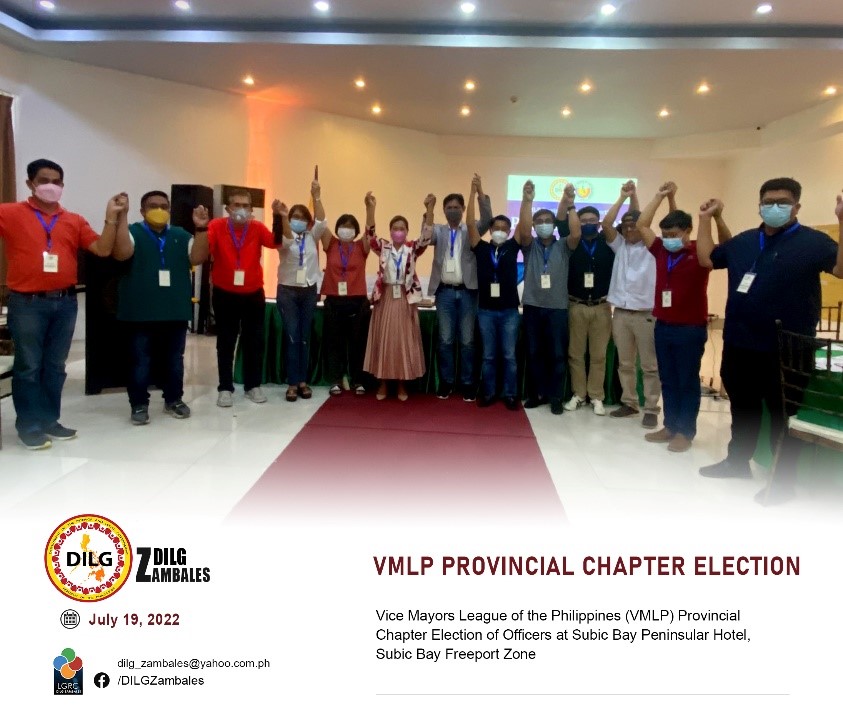 The Vice Mayors' League of the Philippines (VMLP) Zambales Chapter held its election of VMLP Provincial Chapter Officers for the term 2022-2025 yesterday, July 19, 2022 at Subic Bay Peninsular Hotel, Subic Bay Freeport Zone (SBFZ).
 Election proper was presided by DILG Zambales Provincial Director and VMLP Election Chairperson, Martin Porres B. Mortal. The result of the chapter election yielded the following:
President: Hon. Joan D. Ballesteros (Iba)
Vice-President: Hon. Christopher R. Gongora (San Marcelino)
Secretary General: Hon. Mary Ann R. Quiba (San Felipe)
Treasurer: Hon. Lauro B. Simbol (Subic)
Auditor: Hon. Joseph Jonathan A. Bactad (San Antonio)
Public Relations Officer: Hon. Richard Lance R. Ritual (San Narciso)
Board of Directors:
Hon. Pedro O. Enciso (Masinloc)
Hon. Christian T. Esposo (Castillejos)
Hon. Gilbert A. Hermoso (Candelaria)
Hon. Leo F. Bringas (Cabangan)
Vice Mayors Doris D. Ladines and Miguel M. Maniago, Jr. of Municipalities of Botolan and Sta.Cruz, respectively, joined PD Moral and acted as the Committee on Elections.
Guided by the VMLP Election Policy and Guidelines, as amended on March 1, 2022 and DILG Memorandum Circular 2022-067, a successful election turnout and proclamation were carried-out. Candidates who ran for the respective positions were unopposed and received zero election protest. Afterwards, the elected officers took their oath of office administered by PD Moral.
DILG Zambales will continuously support the VMLP not just for the next three years but for years to come in ensuring that public service is properly delivered with utmost responsibility to make a lasting impact to the people.