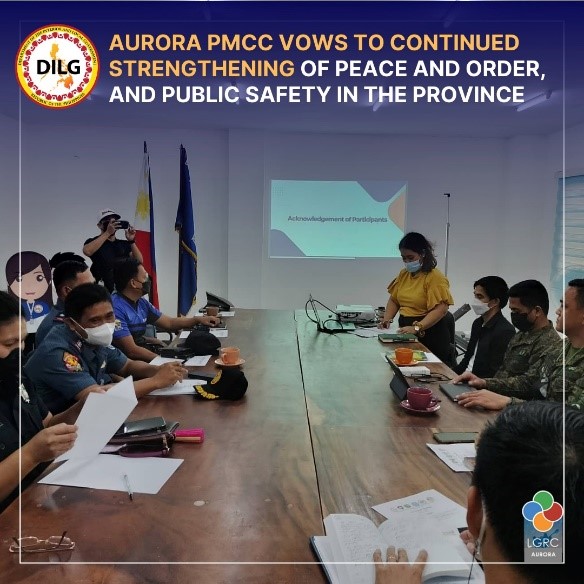 The Provincial Management Coordinating Council (PMCC) convenes for its 3rd Quarter Meeting with the new chairman, DILG OIC Provincial Director, Ener P. Cambroner on July 7, 2022 at the DILG Aurora Conference Room.
 PMCC was organized by the DILG to further strengthen the collaboration between the Department and its attached agencies for the implementation of DILG flagship programs and formulation of policies.
Highlights of the meeting were updates on following: (1) Peace and Order Situation; (2) Insurgency situation; (3) Anti-illegal Drugs; (4) Fire and Public Safety; and (5) Jail Management.
Also, tackled in the coordination meeting are the guidelines on issuance of the E-CLIP related documents for Former Rebels, BPOC and BADAC Performance Evaluation and POPS Plan Accomplishments.
At the end of the meeting, PMCC Chairman Cambronero emphasized that in order to have a good public service, it will always start with the proper coordination.
Present in the meeting are the head of agencies and representatives of the PDEA, PNP, AFP, BFP, BJMP and Regional intelligence unit composed of the following: AFP- LTC Julito S Recto; PNP- PLTCOL JUN S DELA CRUZ; PDEA- Agent Dickson Bangas; BFP- CINSP Ma. Leah Sajili; BJMP- JO1 Kim hadji Baui, and RIU- PLT Ross Bryan Fulgencio.