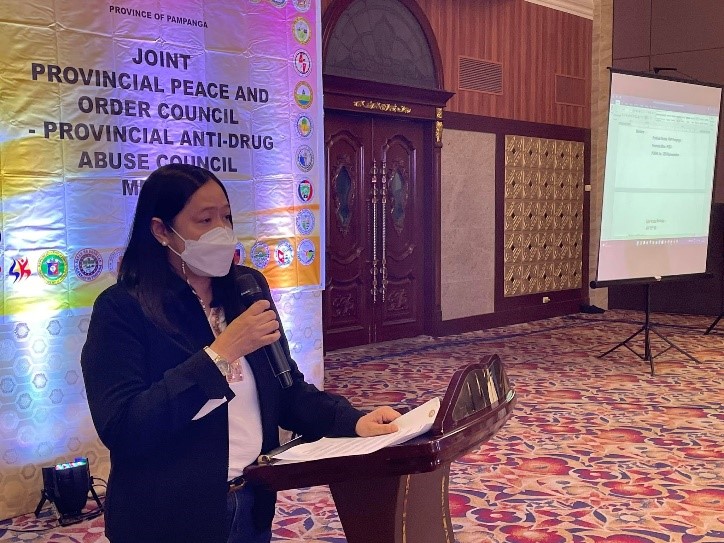 In its second-quarter meeting held on June 23, 2022 at the Kingsborough International Convention Center, the Joint Provincial Peace and Order Council (PPOC) and Provincial Anti-Drug Abuse Council (PADAC) led by Governor Dennis Pineda awarded former rebels (FRs) with cash incentives under E-CLIP to help their reintegration to the community and start a new life. The awarding of checks was facilitated by the DILG.
 Prior to tackling the business of the day, the Council honored former DILG Pampanga Provincial Director Myrvi Apostol-Fabia and recognized her effective leadership and support as integral to the effective performance of the PPOC. The Council likewise welcomed Provincial Director Myra Moral-Soriano as the new head of the Provincial Office and expressed optimism in working with her in pursuing more peace and order initiatives.
A resolution creating the technical working group for the Best Peace and Order Council Awards was also adopted by the Council. Said awards program is an initiative led by the Provincial Government that seeks to recognize high-performing POCs in the province and give cash incentives for their efforts in maintaining the peaceful situation in Pampanga. This initiative will also help the component cities and municipalities improve the performance of their respective POCs.
Meanwhile, representatives from the PNP, PDEA, and AFP presented to the Council their respective accomplishments for the quarter on the crime situation, illegal drugs situation and drug clearing updates, internal peace, and security, respectively.