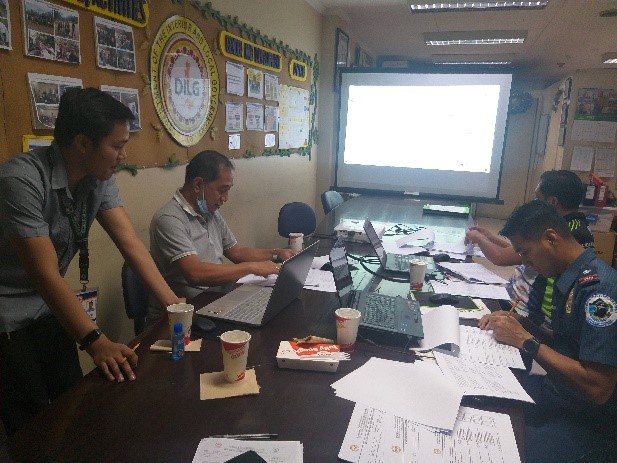 On June 14, 2022, DILG Olongapo City has conducted a post-audit meeting on the 2019 & 2021 City Peace and Order Council (CPOC) and City Anti-Drug Abuse Council (CADAC) performance audits. On the same day, DILG Olongapo led the evaluation of Barangay Peace and Order Committees (BPOCs) and Barangay Anti-Drug Abuse Councils (BADACs).
 The post-audit meeting was conducted to communicate the initial assessment results by the POC & ADAC Regional Audit Team (RAT) based on the submitted documentation through the POC Audit System and ADAC Functionality Monitoring System. DILG Olongapo pointed out the areas for improvement of Olongapo CPOC and CADAC, to which the CPOC and CADAC representatives agreed. LGOO VI Fernando M. Erese Jr., DILG City Focal Person, said that the final results shall be transmitted to the City Government of Olongapo through an official letter and scorecard from DILG Region III.
In the afternoon, DILG Olongapo City Director Amada T. Dumagat led the BPOC Evaluation Task Force with its member-agencies Olongapo City Police Office, Liga ng mga Barangay – Olongapo, and Batang 'Gapo Peoples' Organization Inc, in auditing the BPOCs of the 17 component barangays of Olongapo based on four indicators namely Structure, People, System, and Innovations & Good Practices. Afterwards, DILG Olongapo ADAC Audit Team assessed the 17 BADACs on five compliance standards of Organizational Development, Citizens' Participation & Capacity Development, Rehabilitation & Reintegration Referral System, Education & Advocacy, and Program Sustainability.
The BPOC and BADAC performance audits are the respective barangay-level versions of the CPOC and CADAC performance audit conducted in compliance with DILG MC No. 2020-047, DILG-DDB JMC No. 2018-01, and DILG MC No. 2018-135.