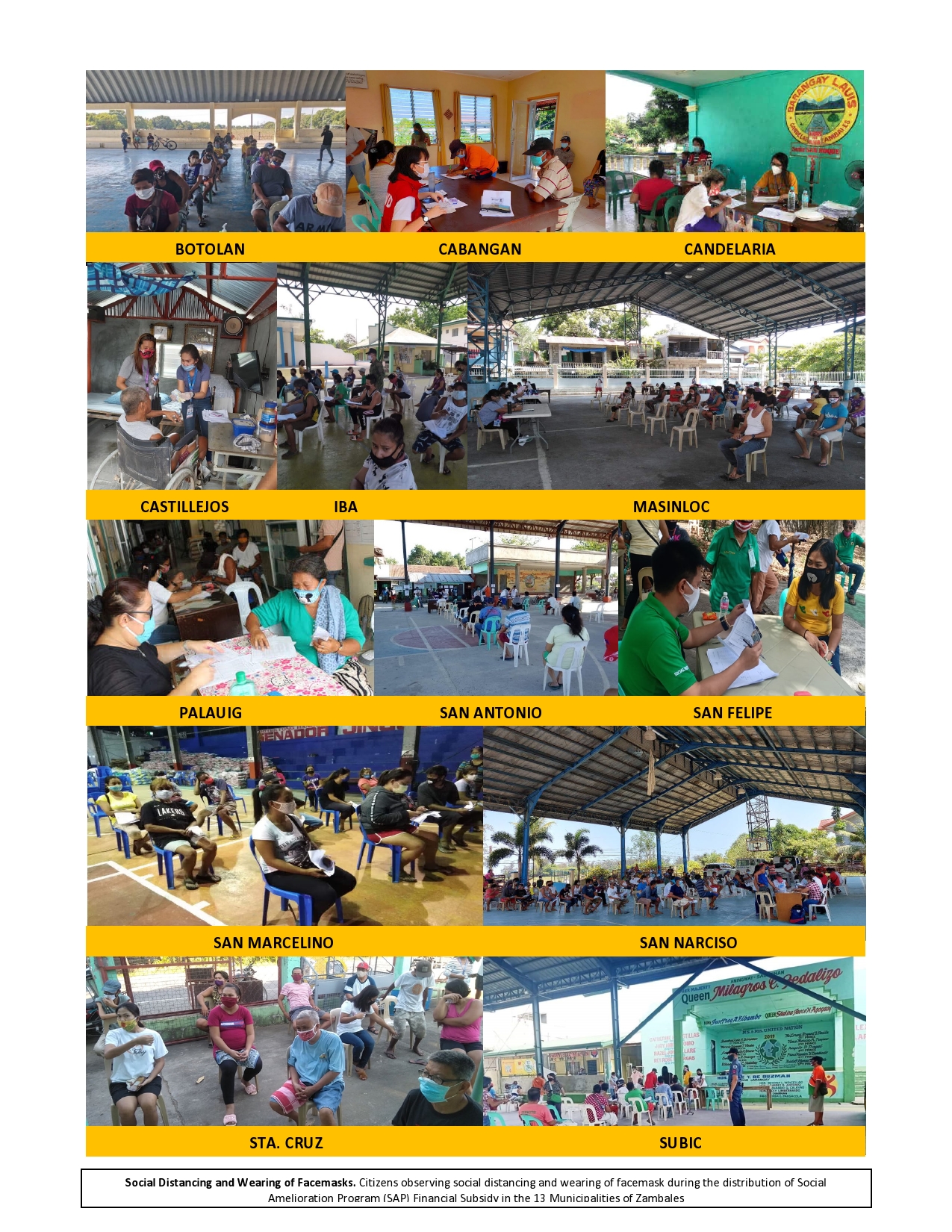 A total of 60,520 Zambaleño families have received their COVID-19 financial aid as of May 15, 2020. 
After the Enhanced Community Quarantine (ECQ) over Luzon and other areas was implemented due to the Corona Virus Disease 2019 (COVID-19), work except for frontline services was suspended.  This has left workers who rely on daily earnings and those whose jobs cannot adjust to a work-from-home setup without income through the lockdown.
With this and the passage of Republic Act No. 11469, otherwise known as the "Bayanihan to Heal as One Act of 2020", the National Government through the Department of Social Welfare and Development (DSWD) intensified its response to most affected families and individuals of areas under the community quarantine, including the province of Zambales, by providing financial assistance amounting to 6,500.00php which is given per household.
The target beneficiaries of the Social Amelioration Program (SAP) were low-income households or those in subsistence economy or workers in the informal economy, assessed to be most affected by the declaration given their existing life situations or circumstances.
In Zambales, a total of 60,888 were targeted as beneficiaries from across the province with a total of Php395,772,000.00 fund allocation. As of May 15, 2020, five (5) days after the last extension of the SAP distribution, 368 families were yet to receive their cash assistance in the municipalities of Castillejos, Iba and San Narciso. While the LGUs of Botolan, Cabangan, Candelaria, Masinloc, Palauig, San Antonio, San Felipe, San Marcelino, Sta. Cruz and Subic have completed the distribution of the cash subsidies.
Below is the status of the distribution of cash subsidies per municipality as to the amount allocation, number of actual beneficiaries, actual amount of payout and date of payout completion:
NO.

LGU

ALLOCATED AMOUNT

NO. OF ACTUAL BENEFICIARIES PAID

ACTUAL AMOUNT OF PAYOUT
(TO DATE)

ACTUAL DATE OF COMPLETION

REMARKS

1

BOTOLAN

36,946,000.00

5,684

36,946,000.00

May 12, 2020

 

2

CABANGAN

14,339,000.00

2,206

14,339,000.00

May 7, 2020

 

3

CANDELARIA

17,355,000.00

2,670

17,355,000.00

May 4, 2020

 

4

CASTILLEJOS

49,296,000.00

7,286

47,359,000.00

Not yet completed

 

5

IBA

35,847,500.00

5,482

35,633,000.00

Not yet completed

 

6

MASINLOC

32,136,000.00

4,944

32,136,000.00

May 4, 2020

 

7

PALAUIG

19,246,500.00

2,959

19,233,500.00

May 4, 2020

2 beneficiaries returned their SAP cash aids

8

SAN ANTONIO

25,408,500.00

3,909

25,408,500.00

May 6, 2020

 

9

SAN FELIPE

15,210,000.00

2,340

15,210,000.00

May 06, 2020

 

10

SAN MARCELINO

20,494,500.00

3,153

20,494,500.00

May 15, 2020

 

11

SAN NARCISO

19,649,500.00

2,988

19,422,000.00

Not yet completed

 

12

STA. CRUZ

35,457,500.00

5,455

35,457,500.00

May 10, 2020

 

13

SUBIC

74,386,000.00

11,444

74,386,000.00

May 4, 2020

 
 

TOTAL

395,772,000.00

60, 520

393,380,000.00

 
 
Source: DILG Zambales Status of SAP Payout Monitoring Sheet
In terms of the posting of the list of SAP beneficiaries in conspicuous places, all 230 or 100% of the barangays in the province have complied. This is to promote also the culture of transparency as one of the aspects of good governance especially during this public health crisis.
The DSWD being the lead agency to implement the said program was also assisted by local functionaries like Municipal Social Welfare and Development Office (MSWDO) and other offices namely: Department of Interior and Local Government (DILG), Philippine National Police (PNP), Bureau of Fire Protection (BFP), as well as other authorized personnel during the payout to ensure peace and order in the designated payout areas. Likewise, wearing of facemasks and social distancing were also observed.
Amidst the pandemic we are currently facing, the national government calls out for understanding and cooperation of all as they find ways to effectively and efficiently respond to the needs of its constituents, especially the most vulnerable sectors of the country.
By: LGOO II Paulin Johanne L. Reyes