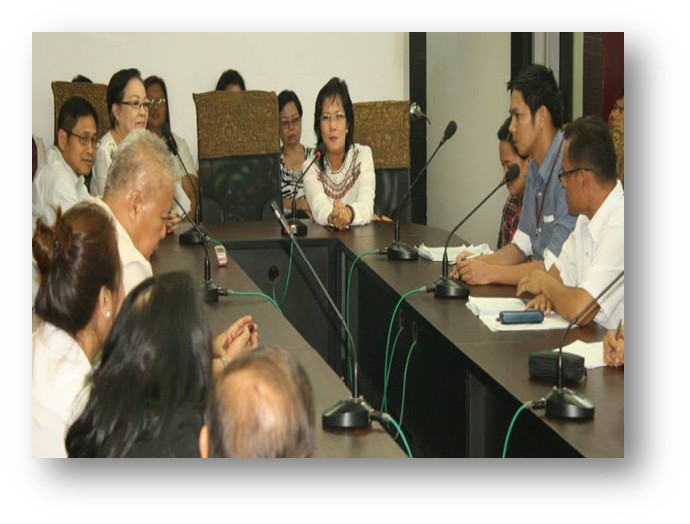 Official of Angeles City expressed optimism that the city will be a recipient of the Department of the Interior and Local Government's (DILG) Seal of Good Local Governance (SGLG) for 2013. This was announced by the city's technical working group and secretariat during the Local Governance Performance Management Systems (LGPMS) assessment and validation recently facilitated by the DILG Regional Assessment Team. The SGLG is the expanded version of DILG's Seal of Good Housekeeping (SGH).

According to DILG City Director Remedios Rodriguez, the judging will still be based under DILG's oversight assessment tool, the LGPMS, but with scaled up fundamentals. The criteria will cover three core elements: 1) good financial housekeeping, 2) disaster preparedness, 3) social protection; and three essential areas of performance: 4) business friendliness and competitiveness, 5) environment management and 6) peace and order. An initial evaluation was performed by the regional assessment group which includes an interview with the clustered technical working groups, onsite inspections and documentary valuation. However, Rodriguez commented that the city still has some minor gaps to fill in. "The regional assessment team allotted three working days to fill in these minor lapses," Rodriguez said.

On the other hand, Angeles City performed well on the three basic elements (financial housekeeping, disaster preparedness and social protection Angeles was also commended for its business friendliness and competitiveness, peace and order, and environment management.

"Angeles City has been very consistent when it comes to complying with the LGPMS. Since the city regularly performs its responsibilities, meeting the conditions of the SGLG will not be a problem," Rodriguez added.

For his part, Mayor Edgardo Pamintuan, who is currently attending the World Mayor's Summit in Singapore, expressed his enthusiasm, saying that "the SGLG will help the city government discover innovations, plans and policies to better serve the Angeleños.. The SGLG should not be treated as a competition between different LGUs but a tool for us to discover our weaknesses and evaluate our capabilities," said Pamintuan, who added that it will also allow the administration to "raise the benchmark of local governance in our country and develop strategies, programs, and projects that will cater to the needs of the people."

City department officials were in full force during the assessment procedure in support to the city's performance evaluation. The Angeles City Local Government, under the Pamintuan administration has been a consistent recipient of the SGH since 2011. DILG has also named Angeles as one of the top ten performing LGUs in the country, ranking 4th in 2011 and 6th in 2012.