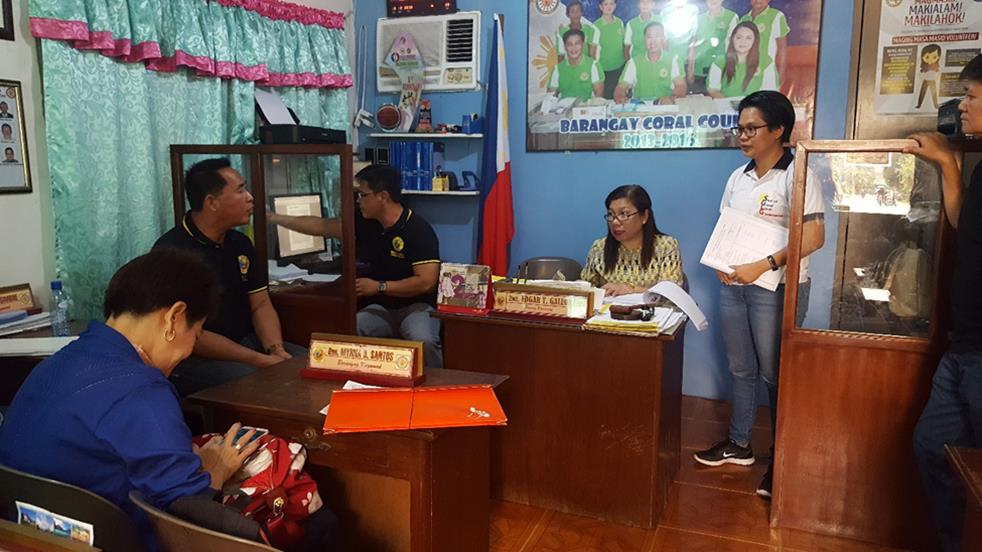 TARLAC – in an effort to keep barangays at pace with the ever-changing demands of peace and order in the community, the Department of the Interior and Local Government (DILG) Tarlac Provincial Office conducted a site validation of the four (4) entries to the Lupong Tagapamayapa Incentives and Awards (LTIA) on February 8, 2018.
 The LTIA is an annual search for best performing lupons who are tasked to administer and implement the Katarungang Pambarangay (KP) in their respective areas. Winners in the municipal, city, provincial, regional, and national levels, respectively will be chosen and recognized.
Provincial Director Belina Herman said this year's iteration of the LTIA seeks to produce more winners from the 1st to 3rd Class, 4th to 6th Class, and City Categories and inspire more barangays to join the competition.
LTIA Provincial Focal Person Jessica Esguerra likewise emphasized that all lupons should not only adhere to the provisions of the Local Government Code on the implementation of the Katarungang Pambarangay for compliance but for practical reasons such as to keep on improving the settlement of cases at the community level.
This year's contenders all hail from the 1st to 3rd class categories namely Barangay Coral of Paniqui, Barangay Iba of San Jose, Barangay Cabaruan of Santa Ignacia, and Barangay O'Donnell of Capas.
The LTIA Provincial Assessment Team was composed of PD Herman as chairperson, Mr. Junius Guiang of the Department of Justice, Hon. Ronnie Jumawid of the Liga ng mga Barangay Provincial Chapter, PO2 Dondon Pascua of the PNP, and 2Lt. Edgar Cenas (ret) from the civil society sector.
Barangays that will win the provincial level assessment will represent Tarlac at the regional assessment where they will be revisited by the regional validators, who will then select the region's official contender for the national awards.