Details

Written by

LGRRC Team

Category: NEWS AND EVENTS
Hits: 384
As part of the Local Government Academy's (LGA) program in strengthening the Local Governance Regional Resource Center (LGRRC) in the regional and sub-regional levels, LGRRC-3 assessors composed of Dr. Jocel Mansueto, Dean, College of Arts & Sciences of Siquijor State College, LGOO V Benjamin S. Belarde of DILG Region 9, LGOO IV Rudith A. Roca of DILG Region 8 and LGOO II Lizbeth Jalimao of LGA conducted on-site assessment on November 18-19, 2014 at the LGRRC-3, DILG Regional Office, City of San Fernando, Pampanga.
Details

Written by

LG-MED

Category: NEWS AND EVENTS
Hits: 294
   In line with the celebration of the 23rd Anniversary of the Local Government Code, the Department of the Interior and Local Government (DILG) Region 3 held an outreach activityon October 21, 2014atBahayatYamanni San Martin de Porres, Claro Santos St., Brgy. BongaMenorBustos, Bulacan. It was attended by 109 students and 9 faculty members.
   The activity was started with an opening prayer followed by a music rendition of the students with the use of violins.
   Brother Vincent Ordiales, Bahay at Yamanni San Martin de Porrescoordinator,warmly welcomed the DILG staff and expressed in his message, the goodness of God and his gratefulness to DILG for taking the initiative and effort in conducting such activity especially in choosing them as a beneficiary. He stated his belief that everything happens for a reason and that God brought the DILG Staff to the place for a purpose.
   Fun games for the children were facilitated by LGOOs II Paolo Israel Franco, Yves Mari Javier, Amelia Obar and RonnelUbungen with the assistance and supervision of the school teachers and staff.The progra
m was highlighted by giving of prizes for the winners of different games, awarding of grocery items for the children and donation of cash gift for the management of the orphanage.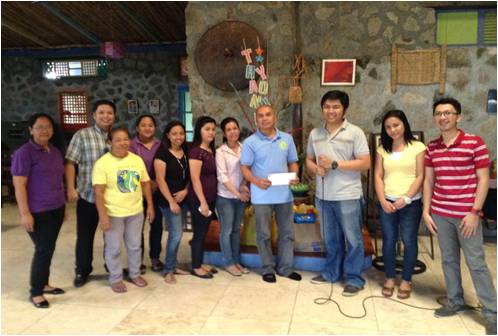 Details

Written by

DILG LG-CDD

Category: NEWS AND EVENTS
Hits: 262
    In line with the Grassroots Participatory Process (GPP) for FY 2016 in all 14 cities and 116 municipalities of Region 3 for the next budget year preparation, the DILG as lead agency and chair of the Regional Poverty Reduction Action Team (RPRAT) is mandated to ensure effective and efficient implementation of the program pursuant to the Joint Memorandum Circular no. 5 series of 2014. The DILG Management Team and the GPP Resource Persons had a meeting with the Regional Coordinator – Community Mobilizers (CCMs) on September 29, 2014 at Party Land Restaurant, Barangay Dolores, CSFP. 
Read more: DILG Mgmt Team Meets with GPP Reg'l CCMs cum CSIS Orientation Briefing