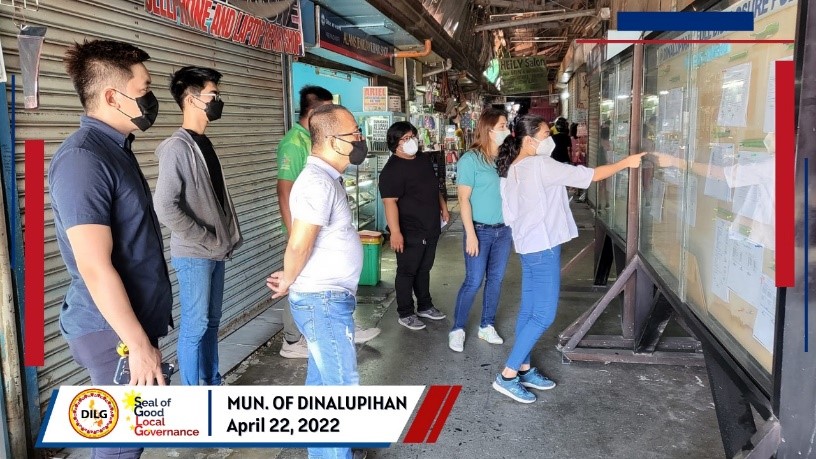 A total of 13 local government units of Bataan underwent regional on-site assessment for the 2022 Seal of Good Local Governance (SGLG).
 Cluster Team Leader Yvette Cosio of DILG Pampanga led the conduct of the validation to the one city and 11 municipalities of the province from April 7 to 28, 2022 with LGOO III Armee Sumang and Engr. Criselda Tayag as SGLG documenters and Mr. Rolly Malit, President of Dimalupig Lion's Club as the civil society organization (CSO) representative.
The Provincial Government of Bataan, vying for its fifth straight SGLG, was likewise assessed on April 12 by LGMED Chief Lerrie Hernandez of the DILG Regional Office, together with LGCDD Chief Ener Cambronero, FAD Chief Anita Adriano and LGOO V Fatima Lalu.
During the validation, the regional assessment teams were accompanied by PD Myra Moral-Soriano, SGLG focal person Cristy Blanco, Program Manager Allan Don Malonzo and the 12 DILG field officers, who provided support and assistance to LGUs in preparation for the regional validation.
LGUs that will pass the regional validation will qualify for the national assessment to be held also this year. They have to hurdle the "All-In" assessment criteria which have 10 governance areas.
The SGLG is the highest recognition and the most prestigious award given by the DILG to excellent and performing LGUs in the delivery of public service through compliance to pertinent national laws and guidelines.
The province had eight SGLG passers in the most recent SGLG in 2019, as DILG Bataan aims to replicate the coveted feat or increase the number of LGU awardees this year.