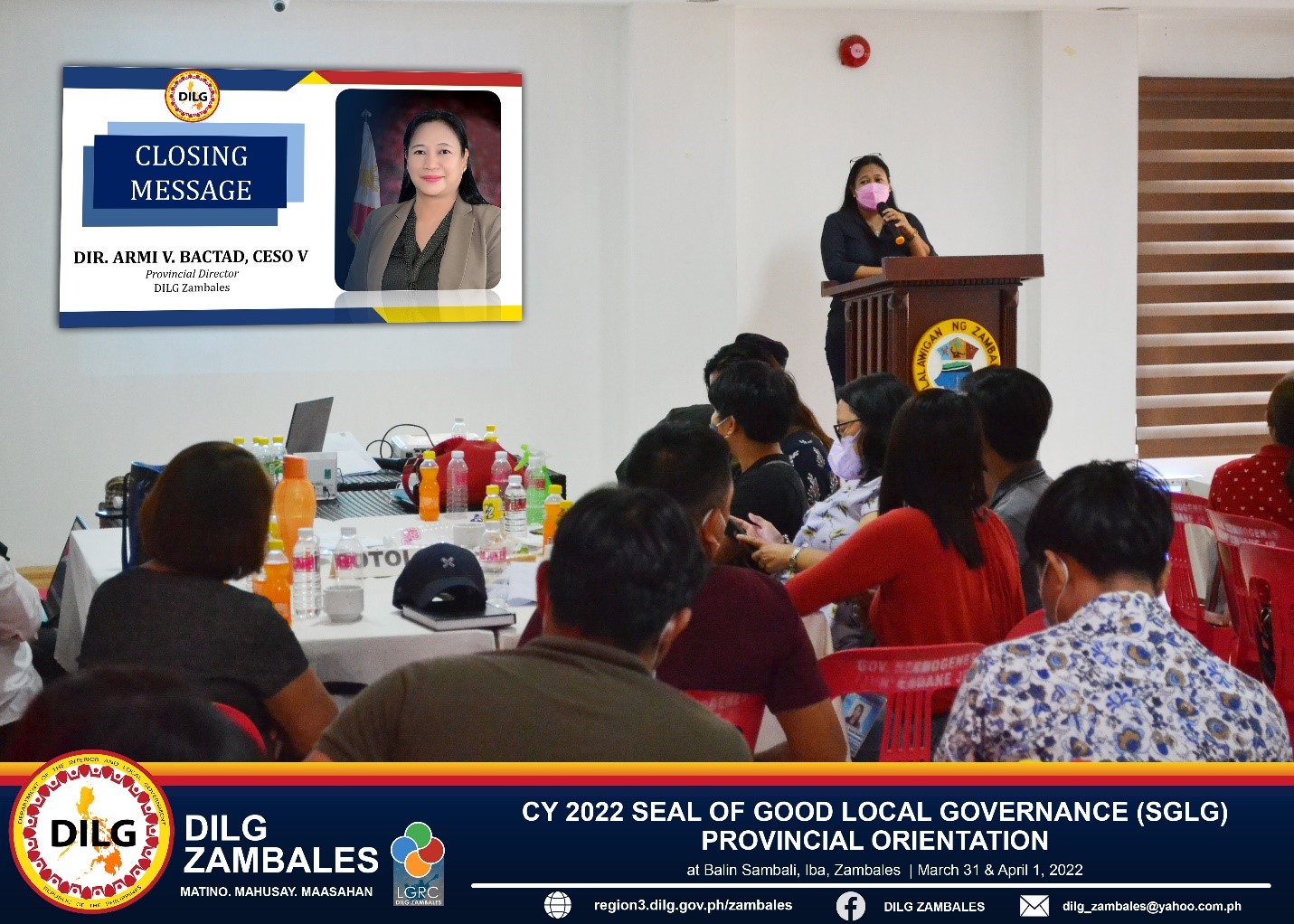 The Department of the Interior and Local Government (DILG) Zambales headed by Provincial Director Armi V. Bactad, in partnership with the Provincial Government of Zambales (PGZ) conducted two batches of orientation-briefing for this year's Seal of Good Local Governance (SGLG) assessment on March 31, 2022 and April 1, 2022 for local government functionaries of the Provincial Government of Zambales and its thirteen (13) municipalities.
 The said initiative is carried-out to equip the local government units of Zambales for this year's ten (10) SGLG assessment areas focusing on Financial Administration, Disaster Preparedness, Social Protection, Health Compliance and Responsiveness, Sustainable Education, Business Friendliness and Competitiveness, Peace and Order, Environmental Management, Tourism, and Youth Development as institutionalized by Republic Act No. 11292 or the SGLG Act of 2019.
Cluster Team Leader Judith B. Romero discussed the overview of the activity and emphasized the significance of the seal, which encourages LGUs to raise their bar of good governance, specifically in providing better services to the citizens. Moreover, SGLG Provincial Focal Person, Local Government Operations Officer (LGOO) V Suslijah John N. Gesmundo, with alternate focal persons LGOO VI Sheryl Ann Q. Dungca and LGOO VI Nedricks P. Canlas presented the abovementioned ten (10) governance areas, as well as the roles of the LGU on the assessment process and the timeline of the assessment.
Provincial Director Armi V. Bactad, in her message, encouraged the LGU participants' cooperation and guaranteed the support of the DILG in providing the necessary technical assistance to the LGUs in aiming for the seal.
The SGLG, institutionalized with the enactment of Republic Act No. 11292, is an incentive, honor and recognition-based program to which the DILG acts as the lead-implementing agency. It aims to boost the LGUs' drive to constantly progress and sustain their notable performance across various governance areas as the government reward LGUs for their effort in pursuing the general welfare of their constituency, while enforcing existing laws.