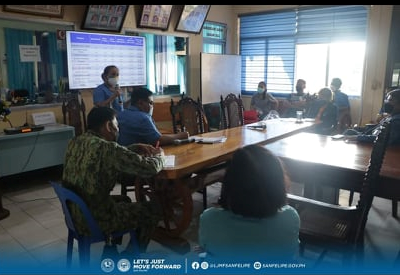 The San Felipe, Zambales Municipal Inter Agency Task Force (MIATF) led by Mayor Leo John M. Farrales laid down initiatives to ensure the safety for each San Felipenian following the rapid increase in the recorded COVID-19 cases in the municipality.
 As part of the undertaking, an emergency meeting attended by Municipal Local Government Operations Officer (MLGOO) Levy C. Swing, Vice Mayor Mary Ann R. Quiba, Sangguniang Bayan Members, Punong Barangays, Department and Section Heads, Department of Education (DepEd) representative, Municipal Health Officer Salome Arinduque, M.D. and different stakeholders was called on January 10, 2022 to discuss the immediate steps needed to be carried-out to enforce stricter health protocols in the municipality, in consonance with recent reclassification of the Province to Alert Level 3.
In the activity, Mayor Farrales encouraged everyone to coordinate with their respective areas of responsibility following the issuance of the Provincial Government Memorandum Circular No. 2022-03 signed by Governor Hermogenes E. Ebdane Jr. and reminded everyone to strictly abide with the said guidelines, as well as those previously set by the Inter-Agency Task Force on the Management of the Emerging Infectious Diseases (IATF-MEID) for Alert Level 3.
In a related initiative and to further lay down the protocol in the local level, Mayor Farrales released Executive Order No. 1 series of 2022 on January 12, 2022 entitled 'An Order Setting Guidelines and Protocols as Preventive Measures to Curtail the Surge of the Coronavirus Disease 2019 COVID-19 infections in the Municipality of San Felipe.' Said Order enumerates the activities and industries not allowed in the Municipality, imposition of curfew hours, regular disinfection, protocols for returning residents, among others.
With this, Municipal Mayor Farrales urged for the full cooperation and unity of the whole of San Felipe community for the safety of everybody.