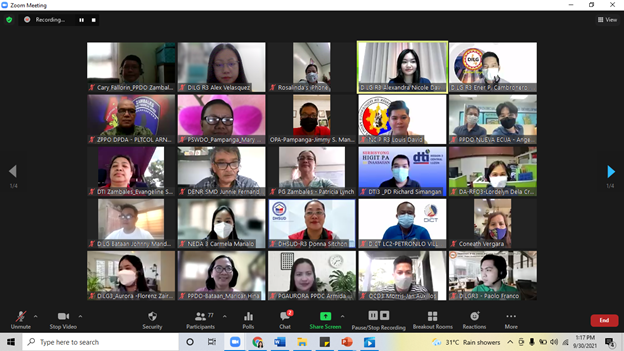 In 2018, the Department, through its Memorandum Circular (MC) No. 2018-172: Assessment of Comprehensive Development Plans (CDPs) for Component Cities and Municipalities, institutionalized the nationwide assessment of CDPs by the Province using the prescribed CDP Assessment Tool/Checklist. As part of the enhancements made in the existing CDP Assessment Tool/Checklist to integrate Disaster Risk Reduction and Climate Change Adaptation (DRR-CCA) indicators/review parameters, the Department has issued an updated guidelines on the assessment of CDPs of cities and municipalities through DILG MC No. 2021-037.
 In preparation, DILG Region 3 conducted the Orientation on the Enhanced CDP Assessment Tool on September 30, 2021 via Zoom Cloud Meetings application. It served as an avenue to orient the participants on the salient features of the tool, which were presented by the representatives from DILG Bureau of Local Government Development (DILG BLGD) and DILG Region 3.
In attendance were representatives from DILG Provincial Offices, Provincial CDP Technical Assessment Committees (TACs), and RLUC members.