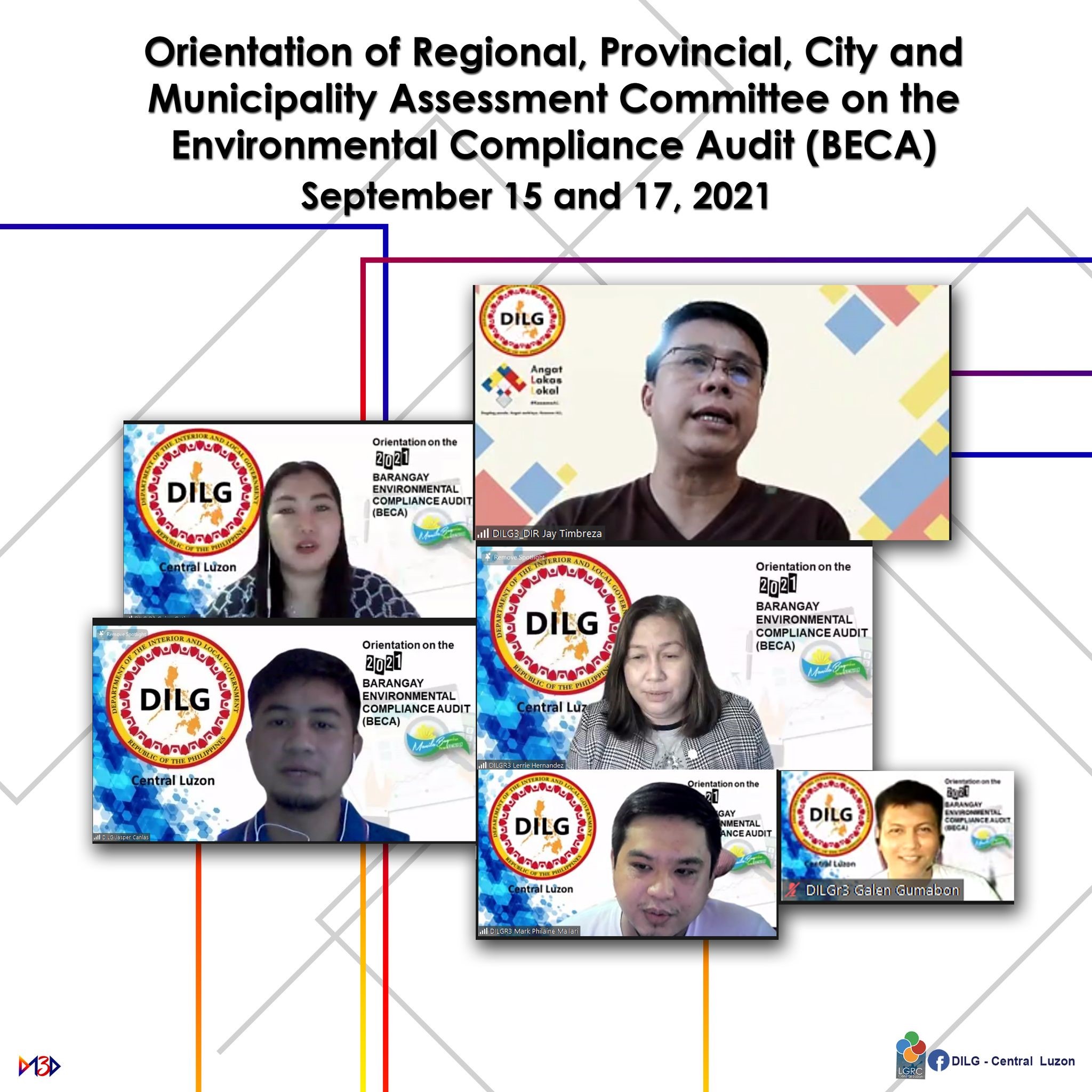 DILG Central Luzon through the Manila Bay Clean-up, Rehabilitation and Preservation Program (MBCRPP), spearheaded the Orientation of the Regional, Provincial, City and Municipal Assessment Committees on the Barangay Environmental Compliance Audit (BECA) on September 15 and 17, 2021 via Online Zoom Platform.
 As part of the Department's intervention in encouraging the Barangays participation, as well as enabling further innovations in the field of solid waste management, the Manila Bay Program Management Team (PMT) together with the concerned national government agencies, developed the Barangay Environmental Compliance Audit (BECA) to increase the enforcement of Republic Act No. 9003 or the Ecological Solid Waste Management Act of 2000, and grant awards and incentives to the best performing barangays.
Program Development Officers of the Manila Bay PMT presented the implementation guidelines of BECA including the assessment indicators, and data capture forms to be utilized by the assessment committees.
Said orientation was participated in by the Department of Environment and Natural Resources, Environmental Management Bureau Region III, concerned DILG Provincial Directors, Cluster Team Leaders, Program Managers, City/Municipal Local Government Operations Officers, City/Municipal Environment and Natural Resources Officers, Manila Bay Provincial Focal Persons, Liga ng Barangay President and representatives from different Civil Society Organization.
After the orientation of the Assessment Committees, the Provincial, City and Municipal committees are expected to initiate and coordinate necessary activities toward the successful implementation of the BECA in their areas of responsibility.