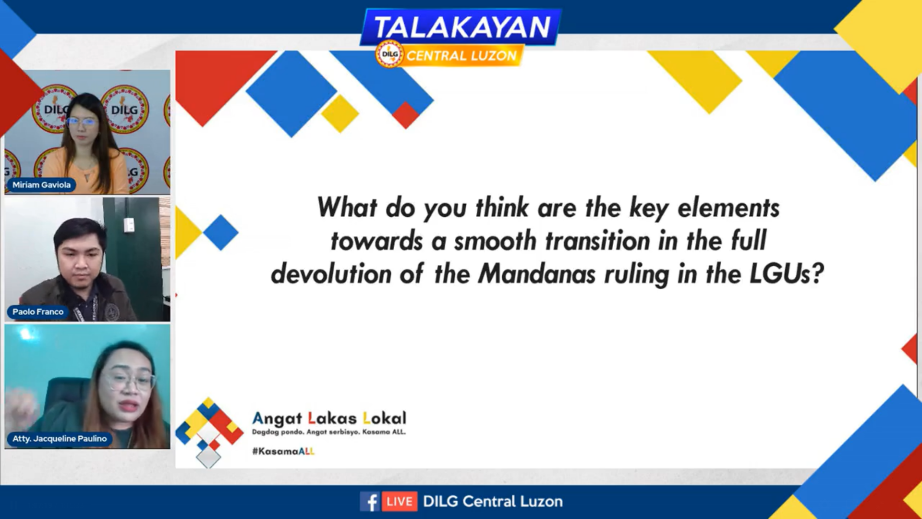 DILG R-III conducted the 3rd Episode of Talakayan Central Luzon on July 29, 2021. The episode focused on the Mandanas-Garcia Supreme Court Ruling on Transition to Full Devolution.
 It was joined in by 250 participants via Zoom Cloud Meeting and reached more than 3,000 people through DILG Central Luzon Facebook Livestream.
The activity was hosted by Regional Planning Officer, Miriam P. Gaviola, and participated by the guest speakers from DILG Regional Office, Legal Officer Atty. Charmaine Jacqueline I. Paulino and Project Development and Management Section Chief Paolo Israel S. Franco.
Atty. Paulino discussed the salient features of the Mandanas-Garcia Supreme Court Ruling including the National Tax Allotment (NTA), formerly known as Internal Revenue Allotment (IRA), which covers the shares of Local Government Units (LGUs) in all national taxes.
Meanwhile, PDMS Chief Franco explained the devolved functions and services of LGUs as indicated in the Local Government Code namely agriculture, health services, social services, katarungang pambarangay, hygiene and sanitation, information services, public market, infrastructure, forestry and solid waste management. He also added that LGUs who are financially incapable of implementing the devolved services will be provided Growth Equity Fund by the National Government.
Furthermore, Atty. Paulino and PDMS Chief Franco advised the LGUs to properly formulate their Devolution Transition Plan to attain the successful implementation of the Mandanas-Garcia SC Ruling and effectively utilize the financial allocation in mitigating the needs of the people. They also encouraged the LGUs to bolster the principle of self-reliance, strengthen people's participation and reinforce coordination.
To conclude the activity, Regional Planning Officer Miriam Gaviola reminded the public to take part and work hand-in-hand with the government to attain the smooth transition to full devolution.