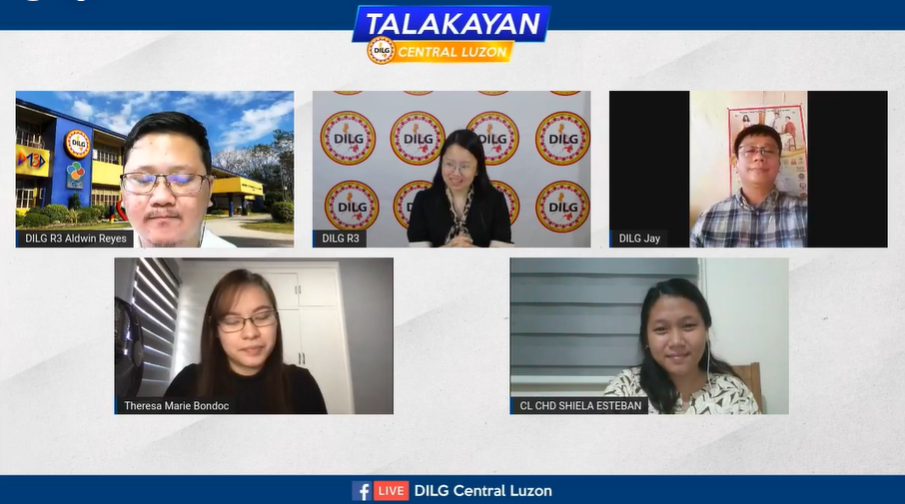 In order to promote awareness on the different programs of the Department as well as on the different issues and concerns relative to the country's fight against COVID-19, DILG Region III has conducted the first episode of TALAKAYAN Central Luzon. This was conducted via FB Live and zoom platform on March 31, 2021.
 For its pilot episode, guests from the Department of Health, Education and Promotion Officer III Theresa Marie Bondoc and Nurse V Shiela Ann Esteban shared relevant information on the COVID-19 Vaccination Program of the government. The importance of the vaccine; different available vaccines in the country; priority groups for vaccination; status of the vaccination plan in Central Luzon; among others were discussed during the online talakayan.
DILG-III Assistant Regional Director Jay Timbreza and Assistant Division Chief Aldwin Reyes also discussed relevant information on the topic particularly the issuance of Memorandum Circular No. 2021-007 dated January 18, 2021 where LGUs are directed to come up with a vaccination plan that contains the preparation of risk communication plans and conduct of early Vaccine Communication Campaign. "Ang tungkulin ng mga LGUs ay very significant since they are responsible on the vaccination activities of their area of responsibility", said ARD Timbreza.
100% or all 137 Local Government Units in Central Luzon, according to ADC Reyes have already established their local COVID-19 Vaccination Operations Centers while 128 LGUs have identified 302 vaccination sites in the region. Also, on the masterlist of priority eligible vaccine population, 130 or 95% of LGUs already have the masterlist of frontline workers and 116 LGUs or 85% have the masterlist of senior citizens.
Towards the end of the Talakayan, questions of online viewers concerning the topic on COVID-19 vaccination were answered and clarified by the guests from DOH and DILG.