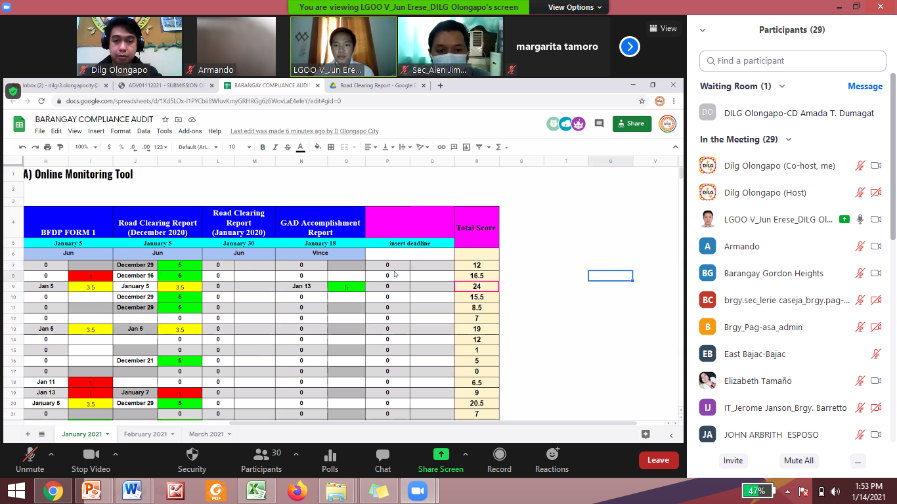 To further innovate online collaboration with the barangays and scale up local governance, DILG Olongapo City launched Barangay Compliance Audit (BCA) on January 12 during the Liga ng mga Barangay-Olongapo City Chapter Meeting at the Sangguniang Panlungsod Session Hall.
 "We initiated this Barangay Compliance Audit to facilitate the monitoring of the compliance of the 17 barangays of Olongapo City in the submission of reports and documents required by the DILG, National Government and other agencies," said DILG City Director Amada T. Dumagat during her message.
To orient the Punong Barangays, LGOO III Vincent E. Catacutan presented the features of BCA and the Online Report Monitoring Tool (ORMT) which will be used to monitor and evaluate the performance of the barangays in the timely submission of quality reports.
Subsequent to the launching of BCA, DILG Olongapo also conducted Orientation on BCA for the barangay secretaries and IT/Administrative staff via Zoom on January 14.
LGOO V Fernando M. Erese, Jr. and LGOO III Catacutan demonstrated the functions of BCA-ORMT which can also be used by the barangays to monitor the required reports and the deadlines; submit their reports; store the said documents for future reference; and evaluate their compliance.
"With this (BCA), we are reminded (on the required reports and deadlines), process of reporting becomes more efficient and easier," said OC League of Barangay Secretaries President Elizabeth Tamaño. "Although it gives pressure, because we could see our compliance rating, however it is also a good thing since it generates competition (among the barangays)."
"It is better to submit reports online," said Brgy. Gordon Heights Secretary Christian Amistad. It (BCA) also reminds us on the timely submission of reports", he added.
Barangay Compliance Audit
Barangay Compliance Audit (BCA) is a DILG Olongapo's program that aims to recognize barangays in Olongapo City that excel in the timely submission of quality reports required by the DILG and the national government, laws and policies.
It also intends to develop and facilitate the submission and monitoring of barangay reports by establishing an online and centralized one-stop-site via BCA Online Report Monitoring Tool where barangay officials can easily check the required reports and deadlines, evaluate their compliance, and upload and store their documented reports for future reference. The BCA-ORMT will be used by the DILG Olongapo to assess the performance of barangays in the timely submission of quality reports.
Excellent barangays will be recognized and awarded during the annual LNB-OC Chapter Year End Assessment.