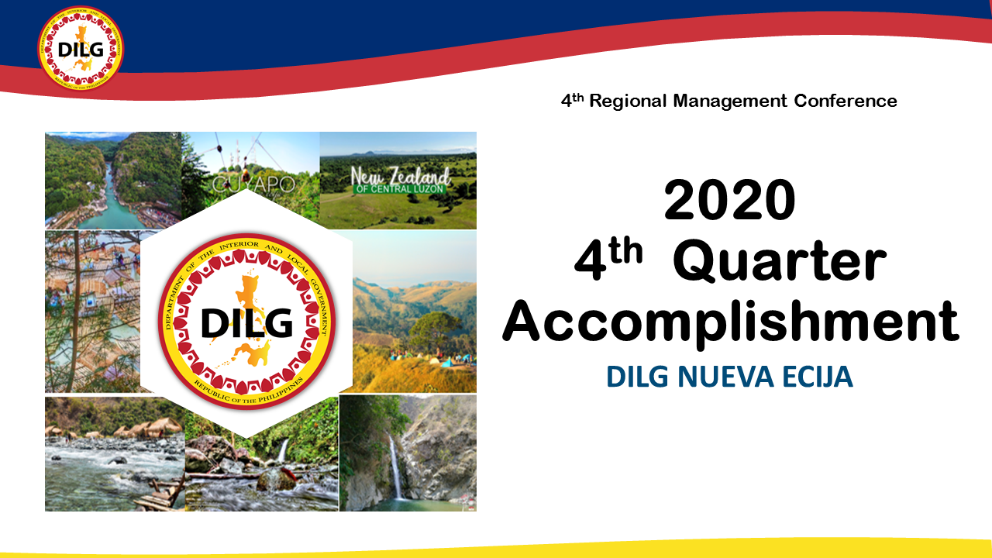 DILG Nueva Ecija shares its accomplishments and initiatives during the 4th Regional Management Conference held on December 29, 2020 via Zoom Meetings application.
 LGOO V Kimberly B. Ruiz, designated Planning Officer of DILG Nueva Ecija, provided an overview of the activities conducted from October to December 2020.
To ensure proper implementation of Locally-funded Projects, the DILG NE Provincial Engineers conducted onsite inspection of projects under Assistance to Municipalities (AM) and Performance Challenge Fund (PCF) Programs.
Various Zoom meetings were hosted by the Provincial Office including the Orientation on Strengthening of Project Monitoring Committees in LGUs, the Orientation on the DILG MC 2020-145: Continuation of Road Clearing, the Citizen Satisfaction Index System (CSIS) Utilization Conference of the Municipality of Llanera and the Reorientation on SGLG Updates for Field Officers.
Training-Workshop on the Local Road Management Manual (LRAM) was conducted in view of the implementation of the Provincial Governance Reform Roadmap as one of the components of the Conditional Matching Grant to Provinces (CMGP) Program.
Planning Officer Ruiz also shared the success of the recent QMS Surveillance Audit as well as the series of activities conducted during the implementation of Retooled Community Support Program.
Physical activities may be limited during this time of pandemic, but with team work, the Department's programs, projects and activities have been implemented successfully.