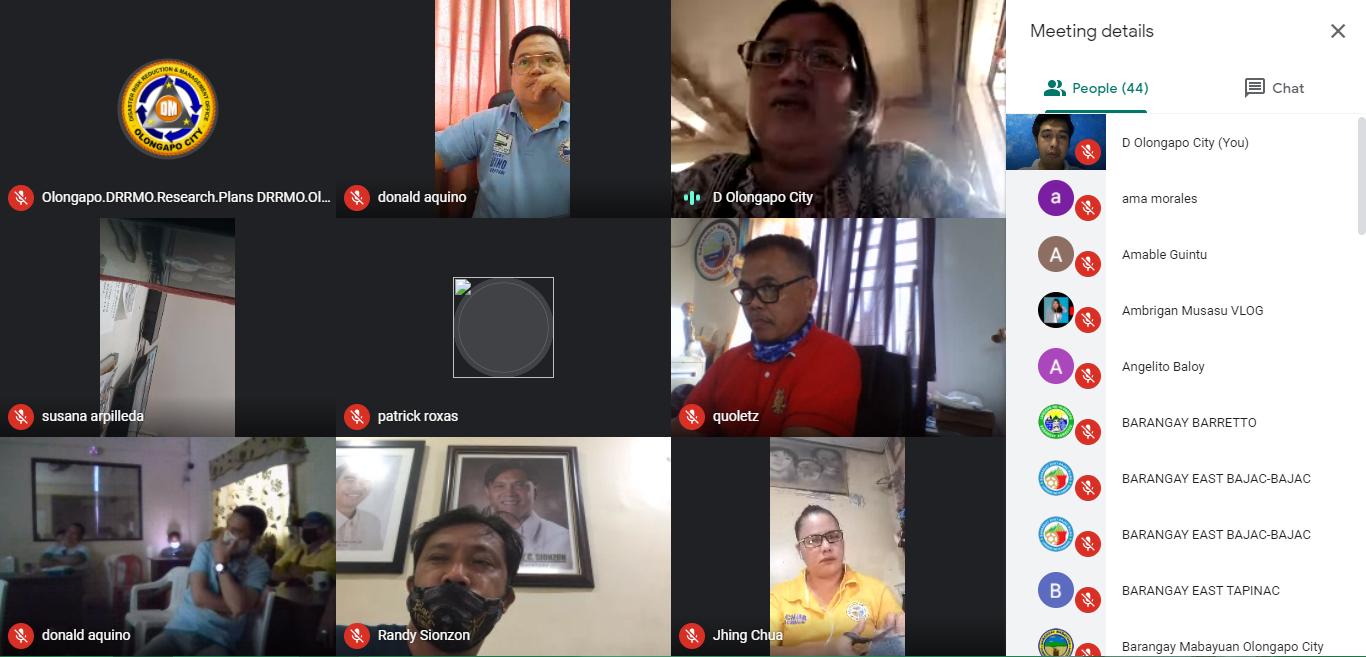 To assist the barangays in undertaking preparedness measures and appropriate actions for the rainy season during the COVID-19 pandemic, the DILG-Olongapo City provided orientation on L!STO sa Tag-Ulan at COVID-19 on October 1, 2020 via Google Meet.
 The said orientation was conducted during the webinar on the Formulation Barangay Disaster Risk Reduction Management (BDRRM) Plan spearheaded by Olongapo City DRRM Office.
DILG City Director Amada T. Dumagat emphasized the importance of preparedness and planning in order to avoid confusion in times of calamities. "DRRM also means that even though we are facing pandemic, barangays, while responding to COVID-19, should still be prepared for any incoming calamity."
LGOO III Vincent E. Catacutan gave a presentation on
L!STO sa Tag-Ulan at COVID-19 under DILG Memorandum Circular No. 2020-125 which provides guidelines for Local Chief Executives in undertaking preparedness measures for disasters brought by hydrometeorological hazards while taking actions to prevent the transmission of COVID-19.
L!STO SA TAG-ULAN AT COVID-19
The Department of the Interior and Local Government issued MC No. 2020-125 enjoining all Local Chief Executives, Local Disaster Risk Reduction Councils and LDRRM Offices to undertake necessary preparedness measures for the rainy season while addressing and implementing infection prevention and control measures against the COVID-19 pandemic.
Per said MC, all LCEs need to consider in their preparedness plans the impact of the rainy season, transmission and widespread COVID-19, and how to how to minimize the disruption to the economy.
They are also enjoined to conduct Pre-Disaster Risk Assessment (PDRA) in response to floods, flashfloods, rain-induced landslides, debris flow, storm surge and strong winds considering minimum public health standards.
Moreover, LGUs must update their respective Local Contingency Plans for hydro-meteorological hazards, closely coordinate with relevant agencies such as DOST-PAGASA, DENR-MGB and DOH, and assess the structural integrity, capacity and functionality of vital facilities and all established Early-Warning Systems (EWS).
LCEs should also ensure unhampered logistics flow and supply chain management, review and update the inventory of relief goods and other resources, enjoin family and household preparedness, improve public outreach through emergency hotlines, utilize the LDRRM Funds and maintain transparency and accountability in the utilization of funds .