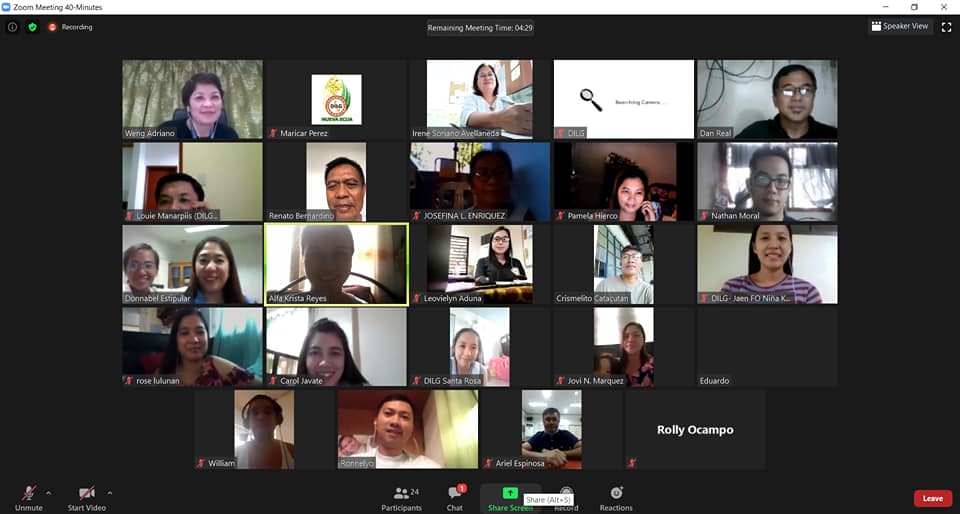 On July 20, 2020, DILG Nueva Ecija personnel had a virtual orientation via zoom headed by Provincial Director Renato G. Bernardino, regarding the "Guidelines for Local Government Units (LGUs) on the application of the Zoning Containment Strategy for COVID-19".
 The activity aims to orient the C/MLGOOs with the guidelines and documentary requirements as prescribed by the RIATF Screening and Validation Committee. The operational guidelines' purpose is to provide the LGUs with the guidelines to contain the spread of COVID-19 pandemic utilizing the Zoning Containment Strategy; guide the local authorities in the transitioning of community quarantine measures to less or more stringent restrictions while continuously monitoring COVID-19 risk indicators; and standardize the principles of community quarantine implementation among zones identified by LGUs.
The said orientation was participated in by Cluster Team Leaders of Cluster 1 and 2, LGOO VII Danilo C. Rillera and LGOO VII Ariel G. Espinosa, respectively, Program Manager LGOO VI Alfa Krista C. Reyes, C/MLGOOs, and provincial staff.
The activity ended with a message from PD Renato G. Bernardino.  He mentioned that safety is the top priority, to be healthy and safe in this time of pandemic is important in order to accomplish the tasks at hand.