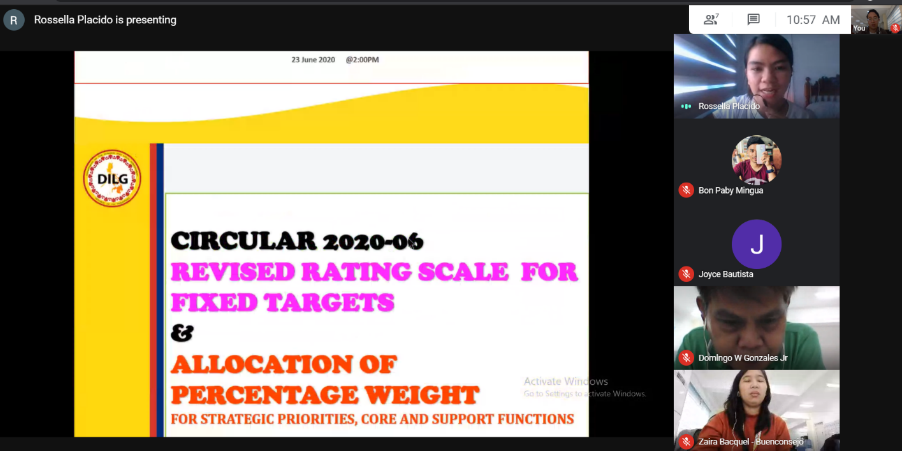 As part of the continual improvement of the Strategic Performance Management Review of the Department in relation to the submission of the 1st Semester 2020 Office/Division/Individual Performance Commitment and Review (O/D/IPCR) rating, the DILG Aurora Planning Unit convened on June 25, 2020, 10:00 AM via Google Meet, a Cloud-Based Video Conferencing Platform, to prepare the said documents.
 LGOO V Rossella P. Edillor, first presented the contents of the Memorandum dated June 15, 2020 relative to the submission of the January to June SPMS Performance Rating Forms. Per the deadline set by the Regional Office, IPCR for the permanent employees and COS employees and DPCR for the Program Managers and Cluster Team Leaders are to be submitted on the 8th and 15th of July 2020 respectively. Edillor, however, suggested to set an earlier deadline for the submission of the IPCR and DPCR to give ample time for the review of the same before its transmittal to the Regional Office.
Also, LGOO V Edillor discussed the salient features of the Department Circular No. 2020-06 relative to the Revised Rating Scale for Fixed Targets and Allocation of Percentage Weight for Strategic Priorities, Core and Support Functions. The said circular highlights the revision of the rating scale for fixed or flat target; categorize the success indicators (targets) and allocate percentage weights in rating the actual accomplishments under strategic priorities, core and support functions; and ensure objectivity and fairness in the SPMS performance ratings.
Upon setting the deadlines, OIC PM, LGOO V Mary Joyce T. Bautista started with the tasking and preparation and consolidation of the filled-up SPMS forms. Discussion for the revised rating scale for SPMS was also facilitated by LGOO Bautista.