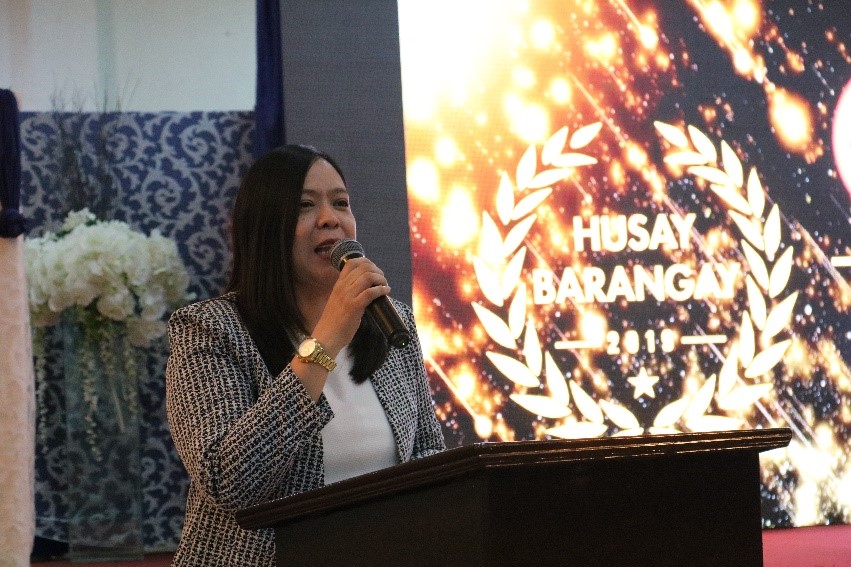 True to its roots and in pursuit of culture of excellence, DILG Bataan conducted the Husay Barangay Awards 2019 at the Grand Ballroom of Lou-is Resort, City of Balanga, Bataan on February 18, 2020.
Husay Barangay is a DILG Bataan-initiated award system that recognizes highly-competent barangays for their 'matino, mahusay at maaasahan' performance in effectively implementing DILG programs particularly in the barangays.
A first of its own, the activity also acknowledges barangays that are consistent in their support to the initiatives and efforts of DILG Bataan in upholding and promoting good local governance.
Awarded with Certificates of Commendation were the 78 barangays with highly-functional Barangay Anti-Drug Abuse Councils (BADACs) and to Barangay San Carlos of Mariveles, the first to establish a barangay Local Governance Resource Center (LGRC) in Central Luzon.
Plaques of Recognition were also given to the 13 barangays who scored 'high to ideal' level of functionality in the Barangay Development Council (BDC) Audit and to the 89 passers of the Seal of Good Local Governance for Barangays (SGLGB).
C/MLGOOs of DILG Bataan were also awarded with Certificates of Appreciation for their unceasing efforts and guidance to the LGUs in achieving the mandates of the Department.
Governor Albert Garcia showed his support to the event and delivered a heartfelt message to the punong barangays on his experience on governance. The governor also thanked the PBs which he compared as 'first line of defense' in dealing with the problems of their communities.
PD Myra Moral-Soriano, in her message, expressed her appreciation to the punong barangays for adhering to the mandates of the Department and attending the activity.
Balanga City Mayor Francis Garcia, Hermosa Mayor Jopet Inton and Pilar Mayor Charlie Pizarro also graced the event by participating in the awarding ceremony.
A pledge of commitment to the #DisiplinaMuna Campaign was likewise led by Liga ng mga Barangay Vice President Venancio Villapando after the discussion of CTL Melissa Nipal.