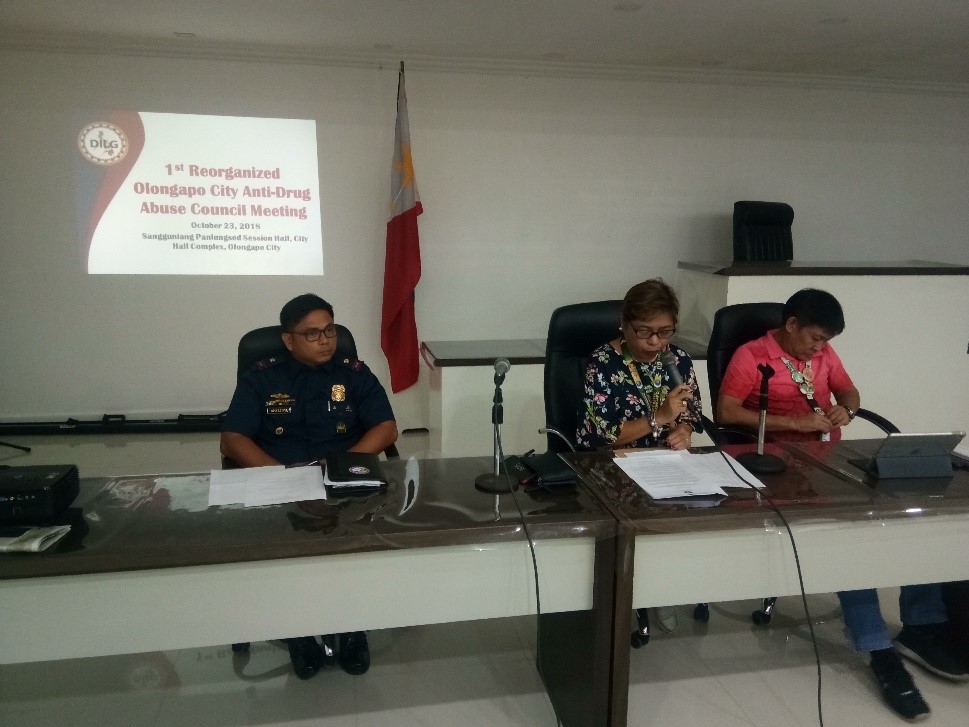 Strengthening the organization, planning and management of all the campaign against illegal drug activities, the City Government of Olongapo oriented all the concerned stakeholders on their roles and responsibilities during the 1st Reorganized Olongapo City Anti-Drug Abuse Council (OCADAC) Meeting on October 23 at the Sangguniang Panlungsod Session Hall.
Acting City Mayor Sarah Lugerna F. Lipumano-Garcia stated the significance of restructuring the City ADAC, thru Executive Order No. 87 Series of 2018 Reorganizing the Olongapo City Anti-Drug Abuse Council (OCADAC) the OCADAC Committees, Composition and Functions, to complement with the existing laws and policies, and to reinforce drug clearing program.
Acting Mayor Lipumano-Garcia also emphasized the inference of the creation of the following OCADAC Committees: Committee on Operations, Committee on Advocacy, Committee on Community-Based Drug Rehabilitation Program (CBDRP) and Committee on Community Support, Aftercare and Reintegration (CSAR). The 4 committees will focus on formulating and implementing their respective plans to curb the drug affectation of all the barangays in the city.
The City Probation and Parole Office, Department of Justice and Olongapo City District Jail discussed the guidelines on the procedural intervention of the ADACs for the arrested PWUD who undergo Plea Bargaining.
The newly organized council aims to provide a centralized One-Stop Shop for Persons Who Use Drugs (PWUD), a City CBDRP and CSAR Program which will cater the reformation of PWUD in all the barangays, to reconcile all the data needed to ensure the appropriate strategy and implementation of programs, and ultimately, to drug clear Olongapo City.