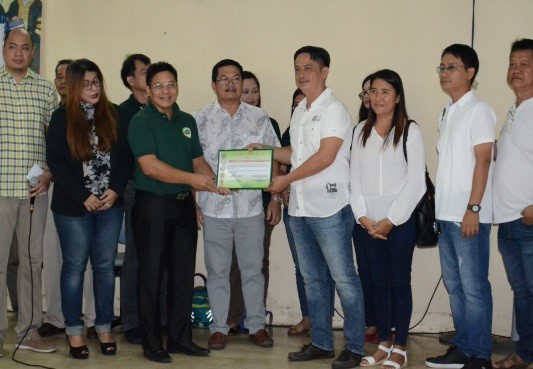 ANGELES CITY – The Department of the Interior and Local Government (DILG) conducted Roll-Out Training on Strengthening the Barangay Anti-Drug Abuse Council to sixteen (16) newly reorganized BADAC. The activity was held on September 6, 2018 at Barangay Pandan and participated in by the Punong Barangay, Chair of the BADAC Committee on Operations, Chair of the BADAC Committee on Advocacy, EX-O Tanod and Barangay Secretaries.
The activity covered the discussion on the BADAC Functionality Indicators and Performance by DILG City Director Martin Porres B. Moral; Barangay Drug Clearing Program by PDEA Agent Al Martin Pallada; Current State of National and Local Drug Problem by PNP P/S/Supt. Enrico Vargas; and the Demand Reduction Program by ACADAC Program Manager Annalisa Suller.
On the other hand, CSWD Officer Ester Dating discussed the Family Drug Abuse Prevention while LGOO VI Giovanni P. Cortado presented the Legal Basis, Functions of BADAC and the Formulation of BADAC Plan of Action Integrated to BPOC Plan as an output of the activity.
Barangay Virgen Delos Remedios, first "drug cleared barangay" in Angeles City
Meanwhile, Barangay Virgen Delos Remedios, (VDR) here was the first barangay to be declared as "drug cleared barangay". It has completed the three phases. The initial phase is pre-operation that needed barangay resolutions, reorganization of the BADAC auxiliary teams, house clustering, after activity report (AAR), capability enhancement, and drug clearing operations seminar-workshop. The second phase is the procedural process, which is the operation with required activities of spot reports, arrested drug personalities, progress reports and conducting administrative searches, including the regular inspection, counseling or rehabilitation. The final phase is the "post-operation," which requires sustainable support activities conducted, continuing lectures or prevention, and the process of rehabilitation and treatment.
The Philippine National Police (PNP), Department of Interior and Local Government (DILG), Philippine Drug Enforcement Agency (PDEA) and the Local Chief Executive are the agencies involve in the anti-illegal drugs operations and in declaring drug cleared barangays.
Mayor Edgardo Pamintuan will give cash incentive of Php. 100,000 to every barangay that will be cleared. Barangay VDR was the first barangay to receive the incentive. The awarding of certificate was led by PDEA Regional Director Gil T. Pabilona, DILG Officer Giovanni P. Cortado and Ms. Annalisa Suller, ACADAC Program Manager held on September 17 during the Flag Ceremony.