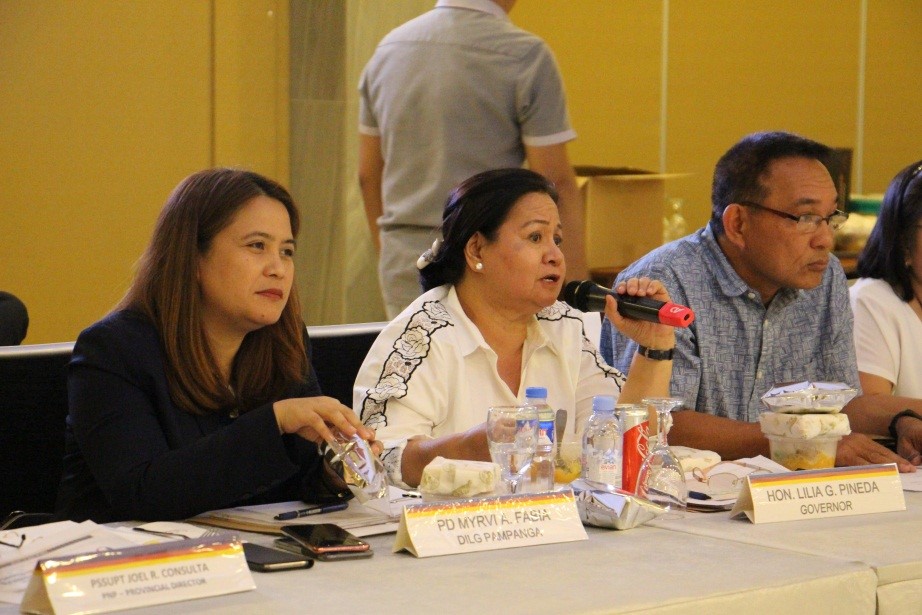 CITY OF SAN FERNANDO - To have a peaceful and successful election is what Gov. Lilia "Nanay" Pineda highlighted in the Peace and Order Executive Session conducted on April 26, 2018 together with the local chief executives, Chiefs of Police, and representatives from DILG, COMELEC, AFP, BFP, and DepEd.
In anticipation of the upcoming election, Gov. Pineda led the said session wherein the agencies presented their plans and preparations for the said event on May 14.
Atty. Lydia Pangilinan, Provincial Election Supervisor, reported that a total of 1,355 candidates filed for the Punong Barangay post while 1,180 youth filed for the SK Chair position. In addition, over 530 polling precincts will be used to accommodate the more than 1.3 million Kapampangans registered to cast their vote. On the other hand, DepEd assured the Council that they are ready for the event, with the classrooms to be used being inspected and refurbished, and the teachers who will act as Board of Election Inspectors being given orientation on COMELEC rules which shall be applied during the canvassing of ballots.
The chiefs of police of different municipalities and cities of the province also presented their security measures and deployment plans to ensure the peace and order situation in the local election. Both the AFP and BFP also have their personnel on stand-by in case of any untoward incident to augment the manpower of PNP.
DILG OIC ARD and Concurrent PD Myrvi A. Fabia then added that the Department is also preparing for the SK mandatory training which would shortly follow after the election as it is one of the requirements for the assumption of office of the elected SK officials.
Following their presentations, all agencies assured the Council that their preparations are already underway and some improvements may be added to ensure that the event will have a peaceful turnout.
Gov. Pineda then reminded all present to remain vigilant and always be alert not just on the day of election but to days prior to it to avoid any conflict or problem on election day. Specifically, she directed the LCEs to give full support in the preparations, whether it be in logistics, financial, safety or security, as this is one of their responsibilities as head of their locality.