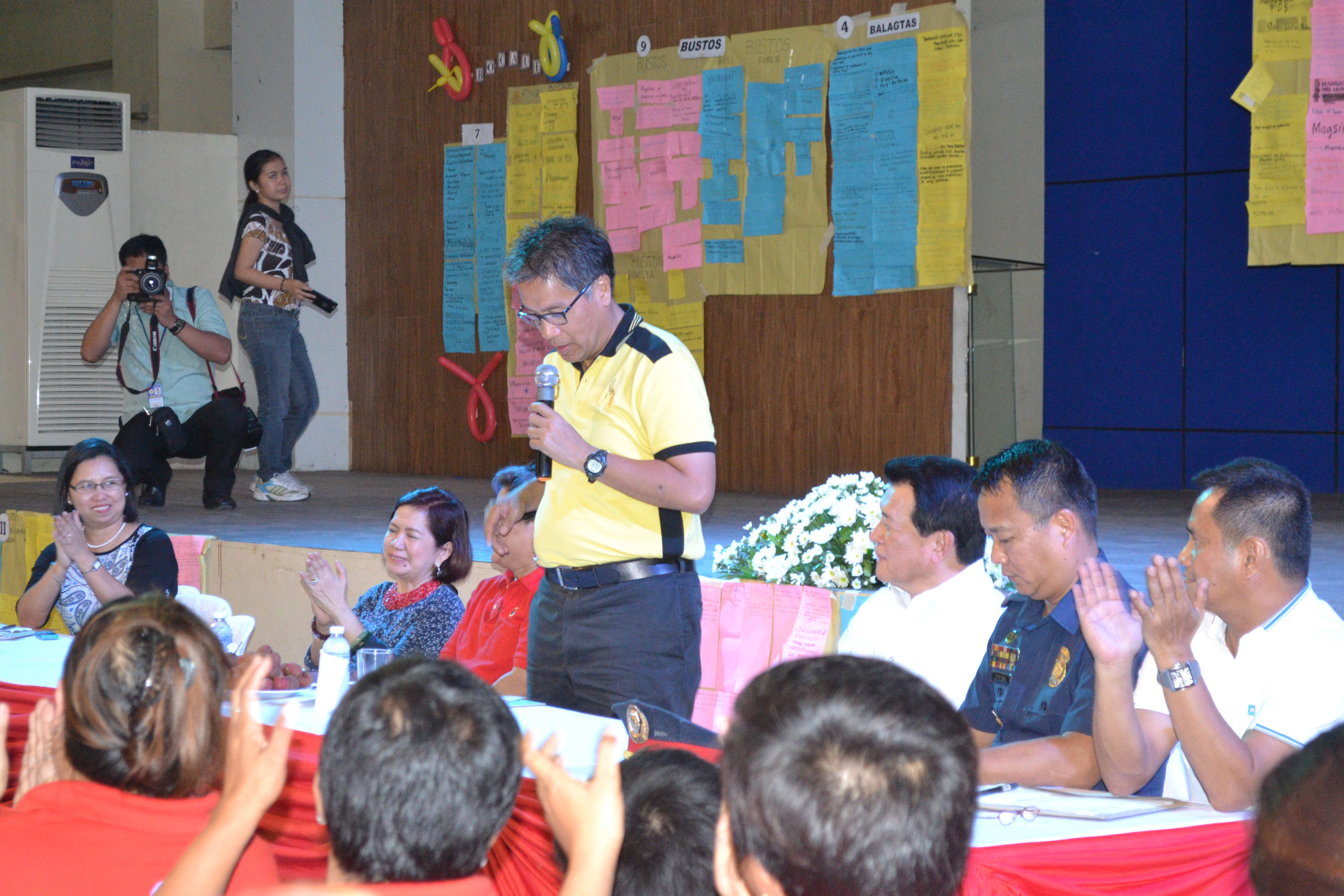 Amidst the preoccupied schedule of Secretary of the Interior and Local Government (SILG) Mar A. Roxas brought about by his effort to assist the victims of Tropical Storm Egay in La Union, he still managed to brought smile in the faces of Bulakenyos as he graced the Parent Leaders Meeting of the Pantawid Pamilyang Pilipino Program (4Ps) of Bulacan on July 07, 2015 held in Baliwag Gymnasium, Baliwag Bulacan.
            Said activity was also attended by DSWD Secretary Corazon Dinky Soliman, DSWD Assistant Secretary Rodolfo M. Santos, DSWD Region III Director Gemma Gabuya, Gov. Wilhelmino Sy-Alvarado, Baliwag Mayor Carolina L. Dellosa,  Baliwag Councilors Marie Claudette Quimpo and Generoso Ligon, DILG Provincial Director Darwin D. David and some DILG Officers from District 2, PNP Personnel headed by Provincial Director Col. Ferdinand Divina, DSWD Staff, people of Baliwag, Municipal Employees,  and more than 500 4 Ps  beneficiaries of Bulacan.
            During his message, Sec. Roxas praised the resiliency of the Filipino people especially those suffering from poverty. He mentioned that there are different disasters in life but since it is innate to the Filipinos to be brave, we still managed to win any obstacle and challenges ahead. He inspired the participants that no matter how difficult the situation is, the government is always ready to assist and uplift its people. He became emotional when she shared the story of her sister who suffered many challenges in life but did not give up because she is determined to give a better future for her children especially that she is already a widower at an early age. He ended his message by challenging the participants not to give up because there is always a sweet success.
            Attendees gave SILG a standing ovation as he left the venue while some participants took the opportunity for a chance to shake his hands and have a picture with him.