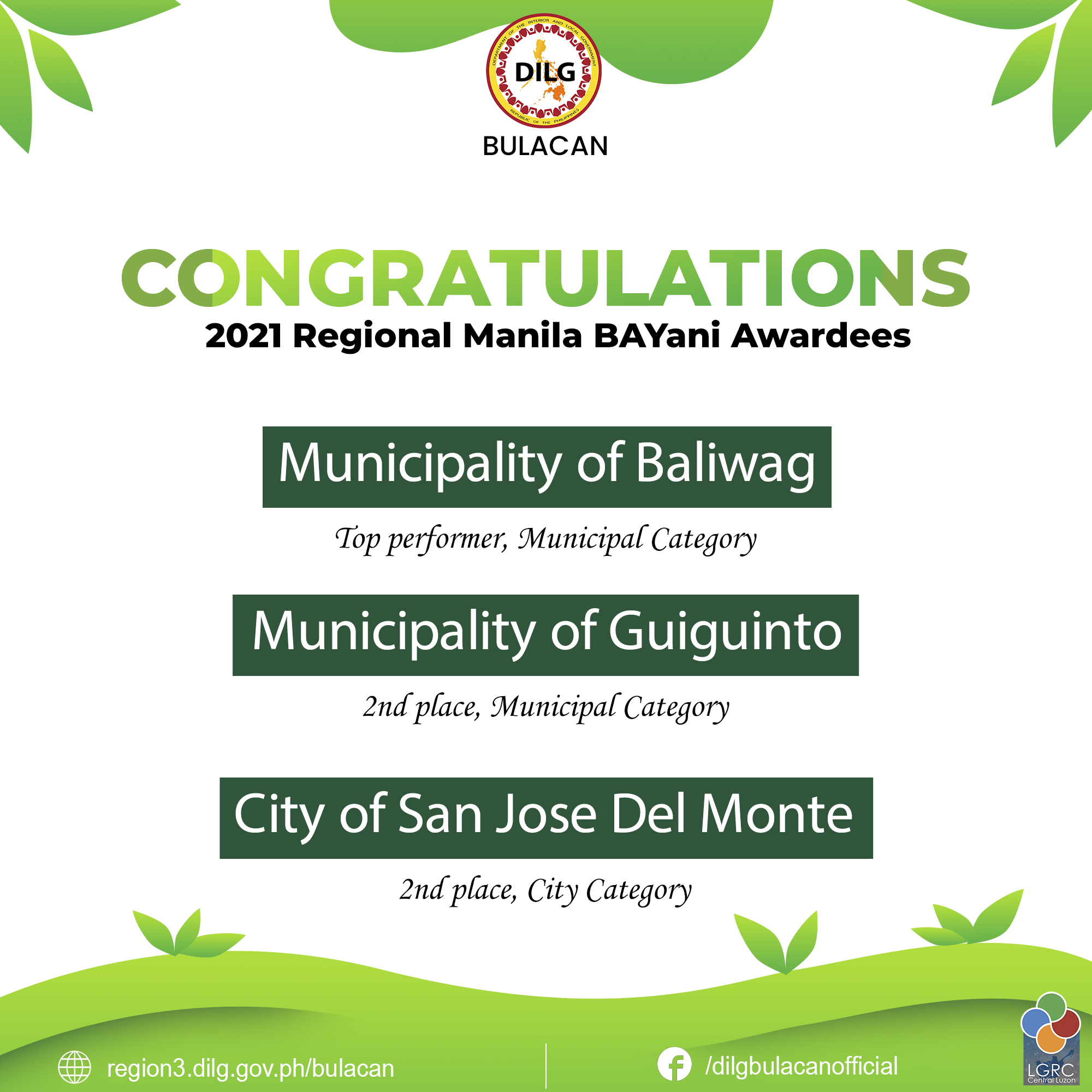 The Municipality of Baliwag, Bulacan was hailed as the 2021 Regional Manila BAYani Awardee for the Municipal Category under the 2021 Regional Manila BAYani Awards and Incentives (MBAI) of the Manila Bay Clean-Up, Rehabilitation and Preservation Program (MBCRPP).
Prior to the conduct of the 2021 assessment, the Municipality of Baliwag was also recognized as the top performer in both 2019 and 2020 Regional MBAI.
Likewise, the Municipality of Guiguinto and the City of San Jose Del Monte (CSJDM) were also recognized as the recipients of the 2021 Regional Manila BAYani Awards and Incentives. Both Guiguinto and CSJDM placed 2nd in their respective categories.
The winners for the Regional MBAI were determined based on their level of compliance to the following Outcome Areas of the Manila Bay Program: Liquid Waste Management, Solid Waste Management, Informal Settler Families, Biodiversity Management, and Institutional Arrangements.
The Manila BAYani Awards and Incentives is a program under the MBCRPP that aims to give incentives and encourage local government units (LGUs) to comply with pertinent environmental laws that support the rehabilitation of Manila Bay. Through this, the Department recognizes LGUs who have shown exemplary performance on the implementation of their mandates under various environmental laws and encourages them to be creative in coming up with innovative strategies on environmental management. The assessment covers a total of 94 LGUs in Central Luzon.