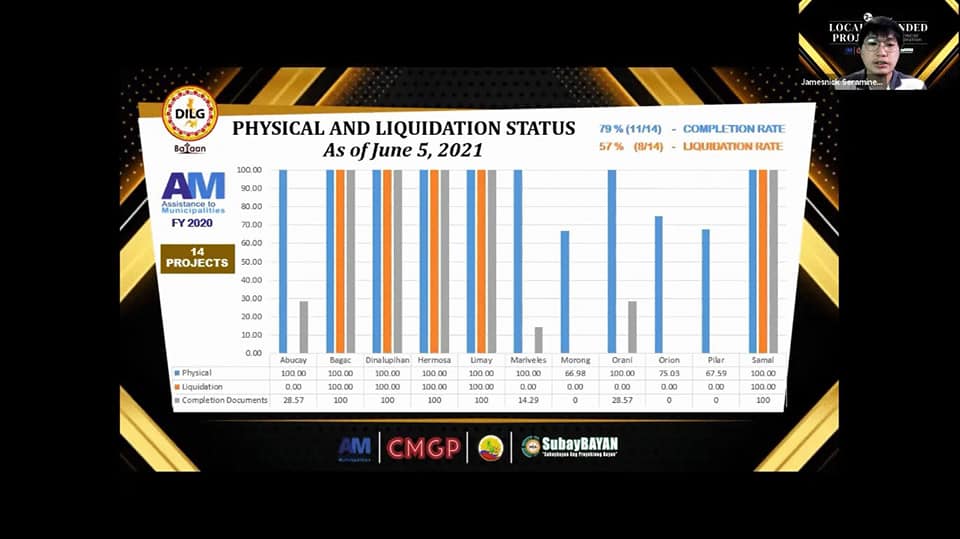 The halfway point of the year approaches with the province of Bataan having more than half of its FY 2020 Assistance to Municipalities (AM) Programs already completed as presented during the 2nd Quarter Provincial Assessment and Calibration of Locally-Funded Projects' (LFPs') Status Reports on June 22, 2021 via Zoom.
With 79% completion rate, 11 out of the 14 local projects under the said program were reported as "physically complete" which had been validated by the DILG Bataan LFP Monitoring Team headed by Capability Development Chief Johnny Mandocdoc.
Designed to cement the common goal of the 12 LGUs towards the improved implementation of projects funded by the Department, the online activity served as the platform to discuss with the concerned local functionaries the status of other related programs namely FY 2019 Performance Challenge Fund (PCF), FY 2019 AM, FY 2021 Financial Assistance to Local Government Units (FALGU), and FY 2021 Disaster Rehabilitation and Reconstruction Assistance Program (DRRAP) in Bataan.
Provincial Director Myra Moral-Soriano expressed her warm gratitude to the attendees and recognized the efforts of all project implementers especially that the province recently ranked second place among the provinces in Region 3 based on the SubayBAYAN Portal.
As part of the team's celebration of small victories, Certificates of Commendation were awarded to the municipalities of Abucay, Mariveles and Orani for their successful implementation of FY 2020 AM Program this quarter. Further, Mr. Allan Buatis (Abucay), Engr. Kristel May Ferrer (Mariveles) and Mr. Regie Romero (Orani) received recognition for their exemplary efforts as SubayBAYAN focal persons.
The activity concluded with a message from Cluster Head Melissa Nipal who has also become a significant part of the Provincial LFP Monitoring Team in inspecting various projects from one town to another.