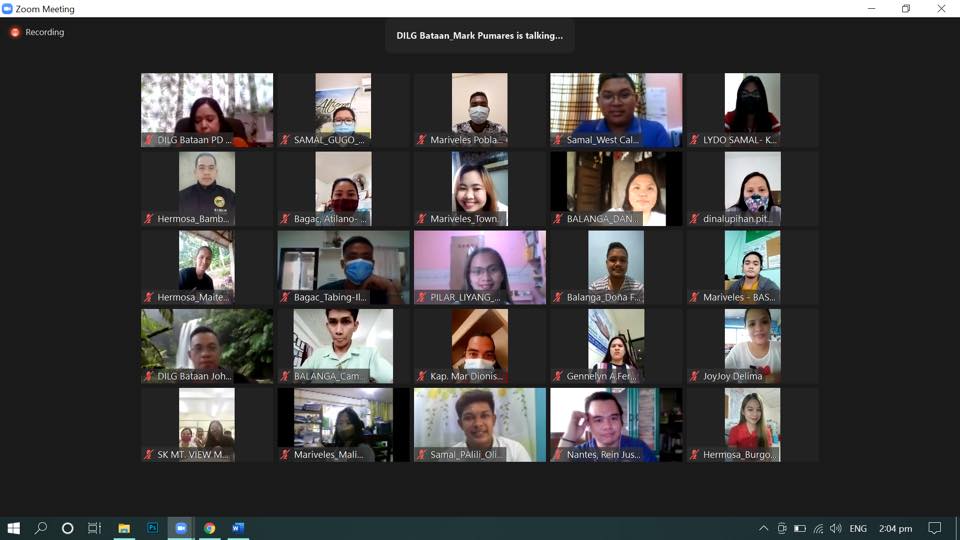 On the latest episode of Zoomustahan: Proactive Bataan Series, DILG Bataan, in collaboration with the provincial federation of Sangguniang Kabataan (SK), took the time to equip the youth officials through an online activity entitled "Setting the Knowledge, Information and Leadership to Level Up (SKILL Up): Strengthening Youth Leaders in the New Normal" on January 28, 2021 via Zoom platform.

A total of 432 young leaders joined the said activity that aims to enlighten them on proper accounting, and reporting on the use of SK funds and property, as well as the financial independence of the SK.

Ms. Jean Hazel Bacani, Regional Accountant of DILG Region III Office, shared her expertise in Government Accounting and Auditing Rules and Regulations. She gave notes on the disbursements and liquidations of the council.

Likewise, Mr. Jose Cielos, Officer-in-Charge of RYDD Training Development and Management Unit under the National Youth Commission, discussed the Monitoring of Local Plans of the SK. He presented the timeline and stages of SK reports and the monitoring templates for SK plans.

In her message, PD Myra Moral-Soriano highlighted the importance of grasping the knowledge or "takeaways" that the young generation of leaders could get from such activities that might help them perform their duties as SK officials.

SK Provincial Federation President Precious Manuel also delivered a message to inspire her fellow leaders. During the question and answer segment of the virtual event, Manuel actively assisted the two resource persons and DILG Bataan Cluster Head Melissa Nipal in responding on the queries of the attendees.

SKILL Up: Strengthening Youth Leaders in the New Normal was designed by the provincial office's Capability Development Section to augment the competence of SK officials in Bataan in performing their mandated powers and functions in the council.