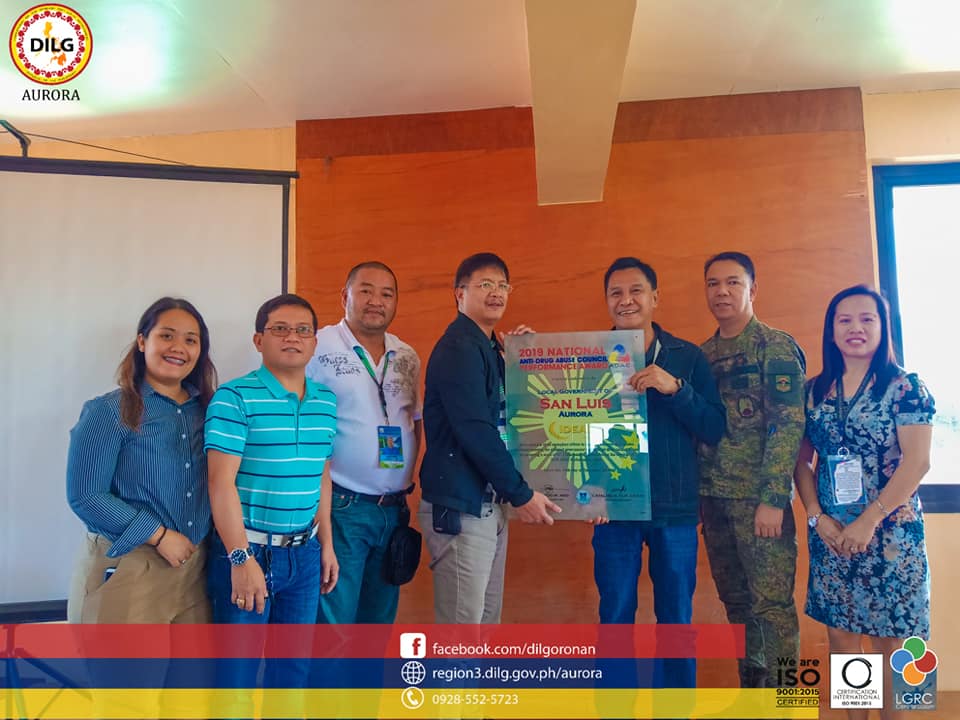 DILG AURORA confers the 2019 National Anti-Drug Abuse Council Performance Award to the Municipality of San Luis, Aurora in recognition of its exemplary efforts in the performance of its duties in complementing the national government's anti-illegal drug campaign and in garnering a score of 95 functionality points during the conduct of the 2018 ADAC PERFORMANCE AUDIT, today, February 04, 2020 during the conduct of the First Quarter Joint Municipal Peace and Order Council, Municipal Anti-Drug Abuse Council and Municipal Task Force End Local Communist Armed Conflict Meeting, at the 3rd Floor Annex Building, Municipal Hall, San Luis Aurora.
Attended by the regular members of the MPOC, MADAC and MTF ELCAC headed by Mayor Ariel A. De Jesus, the meeting was also joined Atty. Ofelio A. Tactac, Jr. CESO V, LGOO VII Dennis A. Daquiz and LGOO II Madam Casey N. Buenaventuran to discuss the following agenda: (1) POC and PADAC Accomplishment for FY 2019; (2) Disiplina Muna National Campaign and (3) Retooled Community Support Program.
"The purpose of the Provincial Task Force ELCAC is not to settle the communist insurgency problem thru military action but to bring directly thru concerted government actions the needed programs and projects to communities being exploited by the insurgents.", Buenaventura said.
She also said that since the creation of the NTF ELCAC, there is a sudden change from a military-based approach to civilian-led approach in countering insurgency.
LGOO II Buenaventura, also, one of the focal persons of the DILG Aurora #DisiplinaMuna National Campaign team, discussed the seven (7) programs of the #DisiplinaMuna Advocacy.
In her presentation, she mentioned that the sidewalks are for the people and the hardest part of this advocacy is maintaining the municipalities 'drug cleared'. "Without the culture of discipline, development and peace cannot be achieved. Because it is everyone's responsibility not solely of the barangay officials."
Specifically, the campaign, which was implemented first the City of Manila, with 'Yorme'Isko Moreno as its bannerman, aims to sustain the policies of the DILG — including road clearing operations, disaster preparedness and resilience procedures, smoking ban, ease of doing business, liquor ban, tourist spots clean-up and implementation of Barangay Anti-Drug Abuse Council.
"Panahon na ng tunay na pagbabago at magsisimula yan sa aking sarili, sa bawat isang Pilipino at sa pakikipagtulungan nating lahat."