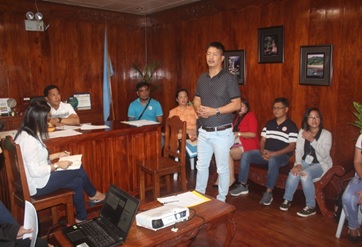 In view of the forthcoming implementation of the FY 2019 Local Government Support Fund – Assistance to Municipalities (LGSF-AM), the DILG Aurora conducted a General Orientation on the said Program's Policy Guidelines and Procedures on July 30, 2019 and August 1, 2019 in the Municipality of Dipaculao and San Luis, respectively. This initiative was spearheaded by Atty. Ofelio A. Tactac Jr., CESO V, Provincial Director, with the technical assistance of the DILG Provincial Project Monitoring Team (PPMT).
Hon. Danilo A. Tolentino, returning Mayor of Dipaculao, Aurora and Hon. Ariel A. De Jesus, newly elected Mayor of San Luis, were briefed together with the Municipal Project Monitoring Team in the LGSF-AM policy guidelines for the effective and efficient project implementation under the said program.

The DILG PPMT and Municipal Project Monitoring Team also conducted progress monitoring and on-site inspection of on-going and completed FY 2017/2018 LGSF-AM Projects in the said municipalities. This is to ensure that all projects are implemented in accordance with the prescribed minimum standards set by the Department.